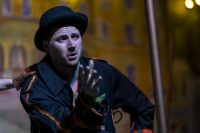 Published on:
6th July 2022
The School is delighted to announce that second-year BA Acting student, Conor Doran, has been awarded a Laurence Olivier Bursary by the Society of London Theatre (SOLT).
Conor has been selected as one of 19 students who will be supported by donations made to SOLT's bursary scheme. Each year, the Society provides financial support to exceptional students entering their final year of drama school. Previous recipients of the bursary have included Ewan McGregor, Michaela Coel, Michael Sheen and other household names.
Expressing his gratitude to SOLT and The Clothworker's Foundation from whom the bursary was donated, Conor said: "I'm incredibly honoured and humbled to receive the Laurence Olivier Bursary award. Winning such an award will allow me to pursue my studies untethered to the financial ball and chain that so often clings to and threatens to curtail many students' experiences. Especially in today's climate, I feel incredibly grateful to be able to do what I do. It's a true privilege. Thanks to SOLT and BOVTS for their faith and support."
For their consideration, nominees – put forward by drama schools across the country – are invited to be auditioned and interviewed by a panel of industry professionals, led by West End producer and Chair of the Bursary Committee, Lee Menzies.
Commenting on the scheme, Menzies said: "It is fantastic to be able to award the Laurence Olivier Bursaries each year, and I want to thank all the generous donors who, alongside the Society of London Theatre, are committed to helping talented individuals overcome financial hardship and realise their potential."
Congratulations Conor! You can catch him performing in an 80s adaptation of Vanity Fair which is currently touring the West Country. Further details at oldvic.ac.uk/events-shows/vanity-fair.
Photo by Ed Felton (Vanity Fair, 2022)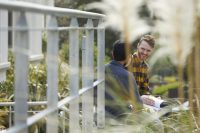 The School is in a beautiful part of Bristol, overlooking a huge park called the Downs. We sometimes take advantage of our close proximity to the Downs during the summer term, practising fight and dance routines, or voice or singing classes! Dan Hall, BA Professional Acting student