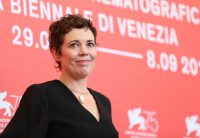 Published on:
25th February 2019
Bristol Old Vic Theatre School is delighted to congratulate alumna Olivia Colman, who has been awarded the Oscar for Best Actress for her performance in period comedy-drama The Favourite.
Coming just weeks after her Golden Globe and BAFTA triumphs, Olivia again won over press and viewers alike with her unique style during her acceptance speech, which can be watched in full on ABC Network's YouTube channel.
The Favourite has won widespread praise from film critics and also picked up several BAFTA and Golden Globe awards. Set at the opening of the eighteenth century, Olivia plays the eccentric Queen Anne, supported by a stellar cast of Emma Stone and Rachel Weisz who play cousins vying for the Queen's affections.
Commenting on her win, Olivia said: "This is hilarious!". She also commented on the future for anyone at home dreaming of such a win, "Any little girl who's practising their speech on the telly – you never know!"
Olivia trained at Bristol Old Vic Theatre School, graduating in 1999 from the Professional Acting course. Speaking to Lizo Mzimba, the BBC's Entertainment Correspondent, Pam Rudge, Head of Music and Singing, who taught Olivia, expressed her delight: "It's lovely for an alumna to have won such a prestigious award. Personally, it's lovely because I taught her and remember her as a student; she was mischievous, she had a twinkle in her eye and she was always fun to have in the room." Pam also commented on Olivia's generous spirit and ability to empathise with the characters she played, adding "she had an immediacy with any script she was given."
Our students have also spoken of the "buzzing" atmosphere today when the news spread and of the inspiration Olivia has provided. Speaking to the BBC about the impact Olivia's win has had on students at the School, final year acting student Moronké Akinola said "It's inspiring to know that Olivia has opened a gateway for women to come out and be as real as they can with how they look, how they act, and to be truthful to themselves."
Olivia became a household name for her supporting role in Channel 4 comedy Peep Show (2003 – 2015) followed by a starring role in ITV's Broadchurch (2013 – 2017). She also stars in the much-anticipated upcoming season of Netflix's The Crown, where she takes over the reins from Claire Foy to play Queen Elizabeth II. Remarkably for the School, fellow alumni Josh O'Connor (God's Own Country; The Durrells) and Erin Doherty (Call the Midwife) also play leading roles in the forthcoming drama as Prince Charles and Princess Anne, respectively.
Olivia joins Sir Daniel-Day Lewis and Jeremy Irons to become the School's third acting Oscar-winner. Artistic Director Jenny Stephens added: "We are delighted that Olivia is getting the recognition that she so thoroughly deserves. She is a great credit to our school."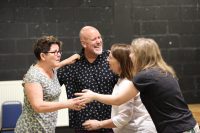 The culture at BOVTS is encouraging, respectful, welcoming and empowering; the environment and buildings are beautiful and I found Bristol to be one of the most wonderful cities in which to spend summer! Lindy Yeates, Foundation Course Student