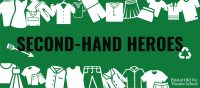 Published on:
18th October 2022
For their forthcoming production of Theresa Heskins' swashbuckling family adventure Robin Hood & Marian, students at Bristol Old Vic Theatre School have been tasked with creating a set entirely out of clothes.
Their version of the iconic Sherwood Forest and its surrounding areas will be adorned with draping fabrics and stylish structures, which will transform for each scene from the inside of a palace, to a canopy of trees or an outlaw's hideaway! A total of 500 garments are required to make their vision a reality; from t-shirts to dresses, hoodies and pyjamas, the Theatre School is gladly accepting donations until Friday 11 November at their main teaching site on Downside Road.
Aldo Vázquez (production designer) commented, "Derek Bond (director) and I knew from the start that we wanted to design a set which is eco-friendly. A lot of professional theatre companies have the luxury of being able to store their sets for later; as a Theatre School with limited resources, we have to either rely on shortcuts which can cause harm to our environment, or conjure up a creative solution. And so, the idea of building a set out of clothes was born.
"Designing and building a set from garments made the company feel really excited. Close your eyes and picture a forest of different textures, the imposing walls of Locksley estate and even magnificent chandeliers! We thought of families coming to see the show having the opportunity to take the theatre experience home with them… After all, anyone with a wardrobe of clothes and an imagination can recreate Sherwood Forest. Thank you to all the local heroes who have supported our appeal, we look forward to sharing our production with you."
Can you help bring Sherwood Forest to life? Could your old socks and shirts find new life as part of a theatrical set? BOVTS is reaching out to local heroes and asking them to donate their unwanted garments. Any clothes which haven't undergone alterations as per the production requirements (i.e. dyeing) will be donated to charity once the run has ended. A list of requirements is available to view.
Robin Hood & Marian runs at The Redgrave Theatre from Friday 25 November to Friday 2 December. Jampacked with archery, acrobatics, song and dance, it's an explosion of colour and joy for all the family to enjoy this festive season. Tickets from £10; special family offers and schools' rates are available. Please see here for further details.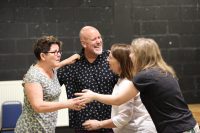 The culture at BOVTS is encouraging, respectful, welcoming and empowering; the environment and buildings are beautiful and I found Bristol to be one of the most wonderful cities in which to spend summer! Lindy Yeates, Foundation Course Student