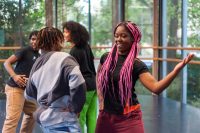 Published on:
26th October 2023
Members of the BOVTS community came together this week in celebration of Black History Month and participated in an African Dance & Storytelling Workshop run by St Pauls Carnival.
Led by renowned dancer Rubba, staff and students delved into the rich history and cultural roots of traditional African and Caribbean dance styles. The workshop invited participation through discussions, learning choreography, and hands-on drumming fundamentals.
Ebube Chukwuma – a second-year BA Professional Acting student who has been hosting a month-long Black History Month Instagram Takeover – took part in the workshop. Ebube commented, "The session was very informative and interactive. The dances were a laugh and clean to copy, allowing us beginners to hold up. Though it became more difficult as time moved on, it was a good challenge that kept us engaged.
"The drumming was intricate and rewarding. Learning to speak through this unspoken language nonetheless has me in awe! I loved the choreography, and now have hands-on experience with the fundamentals of drumming."
Charlotte Claydon, the School's EDI Manager commented, "We choose this session to help students and staff creatively connect with and learn about African culture. It provided brilliant historical context alongside the movement sequences and seeing our students energy and enjoyment throughout the session was so inspiring. We are keen to run more sessions like these beyond Black History Month – so watch this space!"
View this post on Instagram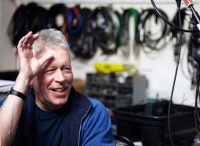 Students developing and growing in confidence during their time here, seeing their work reaching professional standards in approach and execution; a student who intends to be a stage manager producing a wonderful sound design; a first year student making a lovely recording of a song for their recording project; tracking the careers of former students and seeing them be successful; being able to find a job opportunity for a recent graduate. Frank Bradley, Sound Tutor