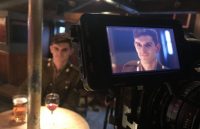 Published on:
30th September 2020
Bristol Old Vic Theatre School, the alma mater of Hollywood stars such as Olivia Colman, Sir Daniel Day-Lewis and Naomie Harris, has today unveiled plans for a specialist master's degree in Screen Acting.
The one-year course will launch in October 2021, coinciding with the School's 75th birthday celebrations. Applications will be open to both UK and international students and will be accepted from today, 1 October 2020. Find out more about the course.
From period drama icons to sitcom legends, and now luminaries of on-demand TV, countless stars of both the big and small screens have learnt their craft with us. Netflix's Season 4 of The Crown, due to launch next month, will again see BOVTS alumni dominating the screen with Olivia Colman (The Favourite, Broadchurch, The Night Manager, Peep Show), Josh O'Connor (The Durrells, Emma, God's Own Country) and Erin Doherty (Call the Midwife, Les Misérables) resuming their roles as the royal family, whilst newcomer Tom Byrne (Black Mirror), who graduated from BOVTS in 2016, will play the role of the young Prince Andrew.
Autumn 2020 will also see the release of the much-anticipated 'Bond 25' thriller No Time to Die featuring alumna Naomie Harris, whilst Sir Patrick Stewart is set to return in a new web series of Star Trek: Picard. Of the School's more recent graduates, Tala Gouveia (BA, 2010) is set to resume filming for her titular role in ITV's McDonald and Dodds, Taheen Modak (BA, 2018) will return as Med in Series 2 of The Bay, and Chris Jenks (BA, 2017) will reappear as a series regular in Season 3 of Netflix's Sex Education. Luke Newberry (BA, 2011) can currently be seen in ITV's The Singapore Grip and Rosy McEwen (FdA, 2017) in Season 2 of The Alienist.
Jenny Stephens, Artistic Director at BOVTS, explains:
"The School has long taught screen acting as part of its curriculum. Intensive training produces graduates with a versatility to work across stage and screen, and the success of our alumni in securing film and television roles is clear to see.
Changes in the drama production industries are, however, increasingly resulting in graduating actors securing early career roles – or even their first jobs – in screen media. This new course responds to this need by adapting the rigour of BOVTS training and teaching in an applied screen context. Students will experience professional 'on set' conditions, building their confidence to break out into screen acting when they graduate."
Meanwhile, Bristol continues to consolidate its position as an internationally-renowned hub for the screen industries. The School's new Principal and CEO, Fiona Francombe, established the city's Bottle Yard Studios in 2009, which have recently been the filming location of high-end dramas such as the BBC's The Pale Horse, Starz Inc's The Spanish Princess, ITV's Sanditon and McDonald & Dodds – all of which have featured BOVTS-trained actors, as well as harnessing the technical mastery of some of the School's production graduates.
In her capacity as director of the Bottle Yard Studios, Fiona Francombe was instrumental in the city's successful bids to become a UNESCO City of Film in 2017 and a Channel 4 creative hub in 2019. Streaming giant Netflix have also been attracted by the bright lights of Bristol, having commenced filming in August for a new ten-part sci-fi series.
Fiona Francombe, Principal and CEO at BOVTS says:
"The last six months have been a difficult and turbulent time for the whole of the creative industry sector. The screen industries have been one of the first to resume work as lockdown eased and, though working practices feel very different, filming is underway and content being made.
There remains very strong demand for the talented cast and crew we have in the UK and many of our past students have been very successful both on screen and on stage. The introduction of the MA Screen Acting course will equip our future students to forge careers in an ever-expanding on-screen world."
The MA Screen Acting course will encompass training in voice, movement, screen combat and acting for motion capture, as well as areas such as self-taping and audition technique. A range of screen acting methodologies will be explored and students will experience professional 'on set' conditions. The programme will be delivered at the School's specialist Film department, a short walk from the main premises in the suburb of Clifton.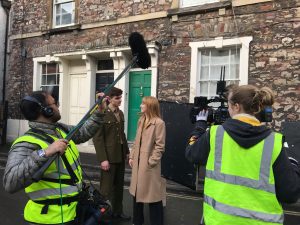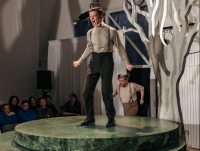 I've worked with visiting professionals this year that I never would have even dreamed of working with. It's been an amazing experience. Thomas Donnan, BA Professional Acting Student