Published on:
11th January 2022
BOVTS is delighted to be working with Moon Executive Search, who will be leading the search campaign for a new Chair of Trustees throughout January and February 2022.
Lucy Bowden, current Chair of Trustees, reaches the end of her tenure in spring 2022 after three years in post and nine years in total on the School's board. All at the School are enormously grateful for the enormous contribution that Lucy has made to BOVTS over this time, drawing on her expertise of working at an executive level in television and radio broadcasting.
The appointment of the new Chair will be fundamental in helping BOVTS through a time of change and progression. Whilst the landscape ahead for drama schools is challenging and complex, this is an exciting time to be joining BOVTS, as the School refreshes its vision, values and strategic priorities.
The role of Chair of Trustees is pivotal in offering leadership and support to the Board of Trustees and to the Principal & CEO, helping raise the profile of the School both nationally and internationally and identifying opportunities and new ventures for the School to pursue.
The role is unremunerated with reasonable expenses reimbursed and requires of a commitment of approximately 3 days per month.
The successful candidate will have:
• a genuine interest in the School and the creative industries sector;
• experience from a similar role in a not-for-profit organisation and of effective governance in an arts, charity, or commercial sector organisation;
• an understanding of the difference between governance (the responsibility of the Chair) and executive management (the responsibility of the Principal & CEO, Artistic Director and Finance Director).
A full candidate briefing pack is available – please contact Sandy Hinks, Head of Charity Practice at Moon Executive Search on 01275 371 200 or email [email protected]. The closing date is 13 February 2022.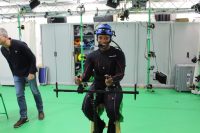 As a student, the most important aspect of a course is putting into practice what you've been learning, and we do that constantly. I cannot recommend BOVTS enough - my showreel has never looked better! April Storm Perry, MA Screen Acting Student