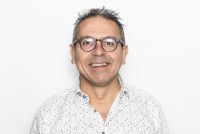 Published on:
28th November 2022
Bristol Old Vic Theatre School is delighted to announce that Ali de Souza has been appointed as the new Director of Drama and will be joining the School's Executive Leadership Team in February 2023.
With strategic oversight of the School's artistic programme, the Director of Drama will have responsibility for overseeing the realisation of BOVTS theatrical and media productions, appointing visiting practitioners, and enhancing the School's reputation as a world-leading training provider.
Ali is currently Associate Head of Acting at the Royal Conservatoire of Scotland, where he has taught Shakespeare, screen acting and professional practice for actors since 2009. A particular focus for Ali has been developing inclusive curricula and advocating for safe practices in areas such as intimacy choreography, understanding boundaries, and the embedding of mental wellbeing into creative practice. He was previously Programme Leader for the BA Acting and Performance course at Queen Margaret University in Edinburgh.
Ali completed an MA in Psychology at the University of Dundee, before taking a one-year postgraduate diploma in acting at BOVTS, graduating in 1993 in The Front Page at Bristol Old Vic's Studio theatre. He later completed an MFA in Screen Directing (Queen Margaret University, 2001) and holds a Postgraduate Certificate in Learning and Teaching in the Arts (Royal Conservatoire of Scotland, 2014).
On returning to his alma mater, Ali commented, "After graduating from BOVTS I worked as a professional actor for seven years. Learning from inspirational teachers like Rudi Shelly, Rita McKerrow and Nat Brenner felt like a truly transformative experience. I graduated with a wealth of skills, beautiful life-long friends and re-entered the industry with a rejuvenated confidence.
"I am delighted to be working with the executive leadership team, the Board of Trustees, dedicated staff team and talented students for the next chapter of the School's long and illustrious story. Performers and creatives have always held a mirror to society, and it's imperative that we continue to reflect on our purpose, celebrate our diversity and work together to ensure a sound future for the arts industry and drama school training."
Fiona Francombe, CEO at BOVTS, says: "I am thrilled that BOVTS has been able to appoint Ali to the new role of Director of Drama. His appointment comes at a time of significant challenge for higher education providers and drama schools, and Ali will be pivotal in shaping and delivering the Theatre School's future strategy.
"Ali is a well-respected and much-loved colleague at the Royal Conservatoire of Scotland. He has led on evolving RCS's training practices and advocating for fully inclusive curricula. The BOVTS community looks forward to welcoming him in the new year as we continue to consolidate our reputation as an exemplar in modern international drama training."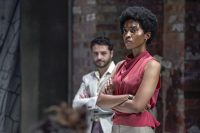 In just one year the MFA programme has given me the confidence in my artistry and the tools to work professionally that I lacked prior to my training. N'Dea Miles, MFA Professional Acting Student