Published on:
2nd June 2022
When the Covid-19 pandemic hit in 2020, Bristol Old Vic Theatre School was proud to be at the forefront of cutting-edge theatre technology. Quickly responding to the closure of venues across the country, the Theatre School started livestreaming content to ensure that audiences didn't miss out on accessing professional-standard performances.
The School's interest in creating sustainable theatre had been piqued – and so, in 2021, when the School was invited to form a partnership with CAMERA for a virtual reality- focused research project, BOVTS students relished the opportunity.
Funded by EPSRC and University of Bath, The Centre for the Analysis of Motion, Entertainment Research and Applications (CAMERA) exists to accelerate the impact of fundamental research being undertaken at the University in the Departments of Computer Science, Health and Psychology.
"We're very interested to learn what technology, such as VR can offer creative people", remarks Jamie Eastman, Creative Network Associate at CAMERA. "This helps us support creative sector companies and organisations to be more innovative, via an applied research approach."
CAMERA performs world-leading research in intelligent visual and interactive technology, as well as expertise in healthcare, rehabilitation, biomechanics, musculoskeletal modelling, sports performance, and psychology.
The Theatre School's MA Drama Directing cohort – who graduated last week (23 November) in a ceremony at Bristol Cathedral – were selected to trial the technology with groups of third-year students from the BA Professional Acting course. Each participant had an avatar created of themselves, and they were able to virtually meet up in different locations ranging from legitimate performance spaces to more abstract environments which stretch the imagination.
Jamie commented: "This investigation into rehearsing for theatre in VR has been very insightful and a good example of how our developing relationship with Bristol Old Vic Theatre School can be mutually beneficial. The students have been great sports and have learnt as much as we have about the practical pitfalls and work-ability of off the shelf VR platforms as rehearsal sites for remote theatre making.
"For a number of reasons, it is increasingly important to enable theatre making without necessarily being physically in the same space. As emerging theatre directors, the students we worked with n this project have become pioneers in this sense and will have lots of ideas of how to do more in virtual settings in the future and how technology can facilitate this."
Ellie Jay Stevens, one of the directors selected for the project, commented: "Working with actors using Virtual Reality was not only a wonderful, fun and bold experience, but also an insightful learning opportunity. The technology opens up the rehearsal space in so many different ways. Firstly, it functioned as an immediate icebreaker between me and the actors, we instantly bonded over this shared first experience of the virtual space, everybody was quickly on the same page.
"The actors were not worried about how they looked, or about their performance, taking away the self-consciousness that might come when people work together for the first time. Instead, it set us straight into our creative mindset, always pushing ourselves to see the limits of what we could do in the space, allowing us to be bigger and braver. I was fascinated by the project as I'm always looking for new technologies to implement in the way I do theatre, and I will be continually in search for more ways to incorporate VR into my practice."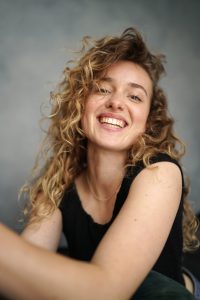 Embrace your individuality. The School is looking for each artist's nuances and seeks to nurture and strengthen them when you study here. Éloïse Richmond, MA Screen Acting Student