Published on:
25th September 2023
Welcome to In the Limelight. Over the next academic year we will interview a new member of the BOVTS community every week, casting a spotlight on the creativity and diversity at the heart of our drama school.
Hello! Please introduce yourself.
Hi, my name's Fiona Reed. I'm Head Receptionist at BOVTS and – for the last two years – have run a busy front of house, known here as 'Stage Door'.
Briefly talk me through a day in the life of a receptionist at a world-renowned drama school.
There is no typical day for me, although it usually begins with setting up for everyone's arrival. I get in at 8am and the staff, students and visiting professionals begin to arrive soon after. I see to their requirements whatever they may be, and then morning registration begins!
One day I can be juggling studio bookings, and the next I can be looking after casting directors and agents coming in to meet with our final year actors. More recently I've been able to represent the School at our graduate showcases in London, alongside our industry liaison team. Every day brings something completely different… I could write a book!
Speaking of anecdotes, do you have any favourite memories you'd like to share?
Looking back, my most hilarious memory is from my very first day in November 2021.
The second-year actors were rehearsing their nativity which was due to go out to primary schools, they were practising their music (!) in the studio next to reception. The doors to the studio had to be kept open to allow ventilation (COVID times), which made answering the phone rather difficult due to the dulcet tones of Away in a Manger being played on the recorder in the background.
At the same time a French film crew arrived with all their equipment to do some filming in the building, the phone was ringing off the hook and someone's vehicle was blocking entrance to the car park. We were all still wearing masks and I had a plastic screen around my desk, so I couldn't hear what anyone was saying and I didn't know who anyone was, it was like something out of a sitcom!
Why do you consider BOVTS a special place?
The collaboration between our different departments creates magic. When the combined skills of our students all come together in a production, it's pretty mind-blowing. Recently I watched our first-year actors' end of term showing, which literally moved me to tears. I felt so proud of them all and stunned by the talent we have in our building. You don't see it when they're running around looking for their missing shoe or tearing their hair out because their bus was late. We truly have something very special here, and I feel very fortunate to be part of it.
What advice would you give to the new students starting this week?
Enjoy and make the most of every moment because in the blink of an eye you'll be graduating. Utilise all that's on offer, and draw from the superb knowledge and skill-set that's in front of you. We are all like one big family here and this is such a nurturing and supportive environment.
Finally, what's your question for the next face of BOVTS?
What's the best thing you've seen in the theatre recently?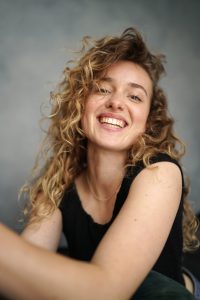 Embrace your individuality. The School is looking for each artist's nuances and seeks to nurture and strengthen them when you study here. Éloïse Richmond, MA Screen Acting Student