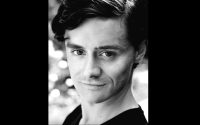 Published on:
7th October 2023
Welcome to In the Limelight. Over the next academic year we will interview a new member of the BOVTS community every week, casting a spotlight on the creativity and diversity at the heart of our drama school.
Hello! Please introduce yourself.
I'm Craig and I'm an opera and theatre photographer (also a former acting student who graduated in 2014).
How did you get into theatre photography?
I was an actor in a previous life, completely living up to the cliché of also being a photographer! I'd always have a camera with me in classes, rehearsals, backstage, and then on shows when I graduated. There wasn't an exact moment where stopped acting, the transition to professional photography was pretty seamless.
What's a day in the life of a theatre photographer like?
Edit, edit, edit, edit, shoot, edit, edit, sleep, edit, shoot, edit, edit, edit etc. Beer and food factor in the somewhere.
Do you do any preparation before a theatre shoot – such as chatting to the director about the show's 'wow' moments – or is it more spontaneous?
What usually happens is I get to the theatre, have a chat with the marketing team then the director, production designer and lighting designer. I'll get an idea of the show's key moments and where the action will be happening – and, then break into a cold sweat thinking I've forgotten something!
Where's the most exciting place that photography has taken you?
Traveling and working around Australia.
Do you have any BOVTS shows that have been particularly hard to shoot?
Dracula at the Loco Klub under Temple Meads was tricky. A non-conventional theatre space, a promenade performance, with a full audience, improvised rigs, a lot of haze and a lot of me running around. A great show and a lot of sweat.
Which one has been your favourite in recent memory?
The Ugly One from the 2023 Summer Festival at The Wardrobe Theatre is up there. So are Dolores/North of Providence and Three Seagulls.
Each week we hand the mic over the interviewee. Last week, Fiona Reed wanted to know "what's the best thing you've seen in the theatre recently?" Can you tell us?
I don't really go to the theatre anymore but there have been several productions that I've shot recently where I've thought "yep!".
In theatre, Daniel Bailey's production of Red Pitch at The Bush was phenomenal. As was The P Word, also at The Bush. In opera, Cal McCrystal's production of Gilbert and Sullivan's Iolanthe for English National Opera was incredible!
Finally, what's your question for next week's interviewee?
If you could be world class at one job (outside of the arts) for one day, what would it be and why?
You can read more about Craig work on craigfullerphoto.com, or on Instagram @craigfullerphotography.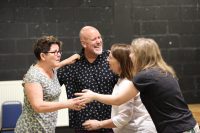 The culture at BOVTS is encouraging, respectful, welcoming and empowering; the environment and buildings are beautiful and I found Bristol to be one of the most wonderful cities in which to spend summer! Lindy Yeates, Foundation Course Student