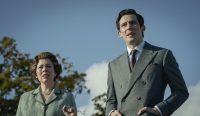 Published on:
20th September 2021
Bristol Old Vic Theatre School is delighted to congratulate acting alumni Olivia Colman and Josh O'Connor, who have won the lead actress and lead actor awards respectively at this year's Emmy Awards, for their performances in The Crown.
The awards, which recognise achievements within the TV industry, took place in Los Angeles on Sunday evening with The Crown clocking up 11 awards in total, including the win for Outstanding Drama Series, as well as awards for writing, directing and cinematography.
Delivering an acceptance speech from London, Olivia – who graduated from BOVTS in 1999 – paid tribute to her fellow cast and creatives: "What a lovely end to the most extraordinary journey with this family. I loved every second of it and I can't wait to see what happens next." Olivia's award for Outstanding Lead Actress follows last year's Golden Globe for Best Actress in a TV Series and, of course, Oscar, BAFTA and Golden Globe wins in 2019 for The Favourite.
Josh O'Connor's win closely follows a Golden Globe award  for Best Actor earlier this year, with widespread praise for his portrayal of Prince Charles. Accepting the Emmy award for Outstanding Lead Actor, Josh said: "Making the Crown has been the most rewarding two years of my life", thanking the cast, crew and his family. Josh graduated from the Theatre School in 2010 and has achieved great acclaim for roles in God's Own Country, The Durrells, and Emma.
The Crown follows the political rivalries and romance of Queen Elizabeth II's reign. Alongside Olivia Colman and Josh O'Connor, BOVTS acting alumni in major roles of the Netflix series have included Erin Doherty (Princess Anne, Series 3 & 4), Jeremy Northam (Anthony Eden, Series 1 & 2), Alex Jennings (Duke of Windsor, Series 1 & 2), Tom Byrne (Prince Andrew, Series 3 & 4) and Jane Lapotoire (Princess Alice of Battenberg, Season 3) whilst Stephen Dillane and Nicholas Farrell have guest starred in single episodes. Olivia Williams was recently announced as playing the role of Camilla Parker Bowles in the forthcoming series.
It was also a successful night for Apple TV's Ted Lasso, sweeping up seven Emmy wins, including Outstanding Comedy Series.  Ted Lasso also features several BOVTS alumni including Phil Dunster and Billy Harris.
Main Image: Netflix Media / Des Willie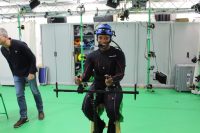 As a student, the most important aspect of a course is putting into practice what you've been learning, and we do that constantly. I cannot recommend BOVTS enough - my showreel has never looked better! April Storm Perry, MA Screen Acting Student