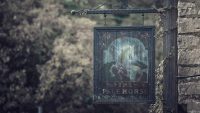 Published on:
5th February 2020
We're excited for this weekend's premiere of new Agatha Christie drama, 'The Pale Horse' on BBC One. Not just because it marks 100 years since Christie first began penning her novels but because it will feature the work of numerous BOVTS graduates as well as current students.
The production filmed in and around Bristol predominantly, including at the Bottleyard Studios, showcasing the wonderful TV and film work being done in the city.
Who was involved?
The main cast features alumnus Sean Pertwee (1986) as Inspector Stanley Lejeune. Behind the scenes, a whole host of recent graduates have been involved in the production including Olivia Mikulla (2019) as Script Supervisor Assistant, Monty Till (2010) as a Location Manager, Nicola Holter (2013) as Costume Standby, Annabel Lee (2019) and Madeleine Hall (2017) as Location Marshals and Assistants.
Madi Barnicoat and Isabel Cope, two of our current costume students, were also lucky enough to do some work experience on this production and are feeling very excited about seeing costumes they worked on featured on TV soon!
Behind the scenes
We spoke to recent graduate Olivia Mikulla about her experience working on this production:
I was script supervising the Splinter Unit which consisted of a handful people (sometimes we were a team of 5, sometimes a team of 20) picking up scenes where footage/coverage was missing.
I was also allowed to script supervise a couple of scenes at the Bottle Yard Studios for the Main Unit on my own too, which was nerve-racking at times but a brilliant experience and the crew were all very supportive.
One of my favourite days was one of our last days shooting in Bisley. We had some chickens that we needed to shoot walking down the street. We chose 'Matilda' as we've been told that she recently recovered from frostbites, feeling sorry for her we thought we'd give her the spotlight. She was well behaved. However, she was too well behaved – she would not move and even crew members trying to shoo her down the street would not work! We tried everything but Matilda was not interested in moving at all. We decided to swap her with what we called a 'Stunt Chicken', which was one of her friends. The second chicken actually walked a bit more … I'm really excited to see the episode and whether any of the chickens made the cut! This whole process took a long time and Splinter Unit was promptly renamed 'Chicken Unit'! It was great fun!
Well done to everyone involved. We can't wait to get watching and figure out whodunnit!
The Pale Horse premieres on BBC One at 9pm on Sunday 9th February.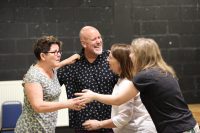 The culture at BOVTS is encouraging, respectful, welcoming and empowering; the environment and buildings are beautiful and I found Bristol to be one of the most wonderful cities in which to spend summer! Lindy Yeates, Foundation Course Student