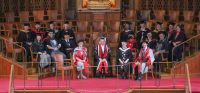 Published on:
24th March 2022
BAFTA-nominated producer and BOVTS alumnus Dan Winch was awarded with an Honorary Doctorate of the Arts in a belated graduation ceremony for the BOVTS Class of '20 and '21.
Dan joins the likes of fellow alumni theatre designer Bob Crowley, actor Alex Jennings and director Erica Whyman; who have all previously been awarded such accolades. After graduating from BOVTS in 2000, Dan began his professional career as an assistant director in TV drama and film. His early credits include award-winning productions Boy A, Appropriate Adult, Birdsong and Tyrannosaur.
In 2012, Dan began his producing career with Guy Jenkin and Andy Hamilton on their comedy feature film What We Did on Our Holiday starring Billy Connolly. The final series of Chris Chibnall's acclaimed ITV series Broadchurch, starring Olivia Colman and David Tenant, helped Dan build and further establish his producing experience.
In 2017, Dan produced Blueprint Pictures and Russell T Davies' A Very English Scandal, starring Hugh Grant and Ben Whishaw, which won an array of BAFTAs, a Golden Globe and Primetime Emmy, together with the Broadcasting Press Guild, South Bank Sky Arts and RTS awards for best mini-series.
In 2020, Dan embarked on his third collaboration with director Stephen Frears, producing Jeff Pope and Steve Coogan's feature film The Lost King, starring Sally Hawkins as Philippa Langley, whose unrelenting research led to the discovery of King Richard III's remains beneath a carpark in Leicester.
Dan addressed the graduands at the awards ceremony on Sunday with a touching speech. He remarked, "Since I graduated from the School, work for me has never felt like a job. Whether as a runner, assistant director or producer, I've been incredibly fortunate to work with some amazingly talented writers, directors, executive producers, cast and crew on some extraordinary projects around the world – but it all began here, in Bristol for me, as a Runner on Casualty. "
Continuing the speech with some advice for the postgraduates, he commented, "I have such fond memories of my time at BOVTS. I loved every aspect of technical theatre: prop making, set construction, sound, lighting, and stage management in particular. My advice to you, is to embark on everything you do in your careers in your own way. Have the confidence with the training you've had, to do what instinctively feels right for you. That's the only way to stand out from the crowd. Thank you so much again to Bristol Old Vic Theatre School for this honour. I wish each and every one of you the very best with your exciting journeys ahead."
Image: Dan Winch (seated front row, fourth from left) © Ede & Ravenscroft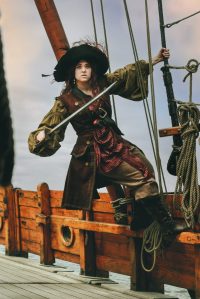 I absolutely love working backstage. It was something I had never done before arriving at BOVTS and I'm so grateful for the opportunity. Madi Barncoat, BA Costume Student