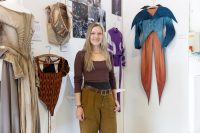 Published on:
28th June 2023
The GENERATE Exhibition is here! From 28 Jun – 1 Jul, Bristol Old Vic Theatre School is hosting its annual celebration of the creativity, ingenuity and artisanship of the students reaching the end of their training on the MA Performance Design, BA/FdA Costume for Theatre, Film and TV, and BA/FdA Production Arts programmes.
We're taking a look at just some of the amazing exhibits by our students, the challenges they have faced and some of the work they are most proud of. Remember this is just a fraction of the work on display, so make sure to visit us at Paintworks Events Space. Can't make it in person? Please check out our online exhibition.
Costume – Ruth Ferns Duncan
In exploring her passion for science fiction and costume design, Ruth has created her own material. With the aim of integrating prosthetics and costume, this HR Giger-esque costume features cut-outs in the top layer of fabric with alien skin like textiles sewn underneath, giving the impression of the wearer having alien skin.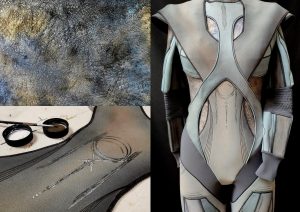 The material for the stretch wear layer has been created by Ruth; made from interwoven silicone/neoprene/scuba-knit designed bodysuit. The details and colour of the outfit have been created through screen printing and a range of dyeing techniques.
Performance Design – Abigail Manard
Abigail worked as designer on Dorian as part of the Summer Festival at The Wardrobe Theatre. Dorian is a re-telling of The Picture of Dorian Gray intertwined with snippets from author Oscar Wilde's own life, resulting in a deliciously dark and dynamic celebration of chaotic queer joy.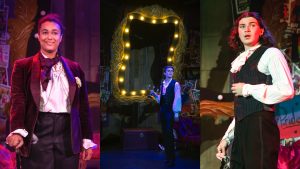 Working closely alongside director Phoebe Kemp, Abigail created a set that combined modern day queer life with the Victorian style. In the backdrop, sharp eyed audience members could spot protest posters designed by the students, as well as posters for drag shows, pride events and LGBTQ+ films encompassing the art style of horror b-movie posters. This created the feeling of presentness whilst reminding the audience of a Faustian bargain made by Dorian, and keeping the play within gothic themes of the source text.
Production Arts – Jessica Way
Jessica worked as a Prop Supervisor on the School's West Country tour of Great Expectations, designed by Fiona McKeon. Jo Clifford's adaptation of the Dickens novel is a memory play, which meant a lot of the set design was largely abstract and fluid in nature. This put an even greater importance on the props being as realistic as possible.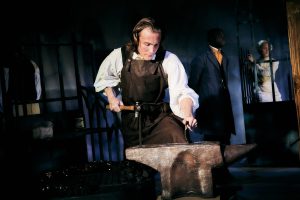 Jessica talked us through how she and the team of Prop Makers set about creating one of the story's iconic symbols – the anvil from Joe Gargery's forgery. Naturally anything even an eighth of the mass of a real anvil would be immensely impractical, and so the challenge presented to Jessica and her team was to create a realistic anvil that could produce the metal ringing when used by the performers. Alongside assistant Živa Bučer this was achieved by creating a ply and copper frame, with a hollow centre and steel plate inlay on top. The form was a polystyrene carve and then finished with Idenden. This is a thick waterborne co-polymer that provides a durable and flexible texture coating. The final touch was a rust and charcoal paint effect.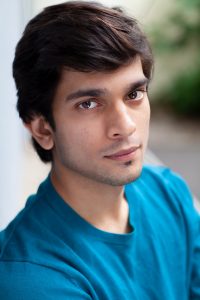 As soon as I visited the School, I fell in love with the place. Perhaps it sounds a bit irrational, but sometimes you get a vibe - and you just know! BOVTS gave me all the tools I needed to prepare for a career as an actor. Sahir Mehta, MA Professional Acting, 2018