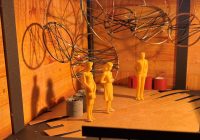 Published on:
16th May 2023
Bristol Old Vic Theatre School's Summer Festival runs at The Wardrobe Theatre from 25 May to 17 Jun. The season is comprised of 8 sizzling contemporary plays – ranging from apocalyptic comedies to psychological thrillers – presented by the School's graduating directors, designers, actors and technical theatre students.
We spoke to the student creatives at the helm of Elinor Cook's Out of Love – director Lydia McKinley and designer Alice Sales – about what audiences can expect at curtain up on Thu 25 May. They also told us how training at BOVTS has helped to shape their artistic approach.
Out of Love explores the complexities of female friendship, the pressures of growing up, and the intensity of the ties that bind. Grace and Lorna are used to doing everything together – sharing mixtapes, insecurities, and ambitions. Nothing can tear them apart, until one day, they find themselves in starkly different situations. Spanning a thirty year period, Out of Love deep dives into the entwined lives of these two women, as changing circumstances bend, break, and test what it means to be a 'best friend'.
What should audiences most look forward to in the play?
LM: Out of Love is a beautiful challenging rollercoaster of play, with an incredible cast and beautiful design. I can't tell you how proud I am of the team behind this, who have all put so much heart into telling this important story. Jumping between 30 years of a female friendship, expect to be thrown into a multitude of emotions, characters, and to feel a strong sense of nostalgia for our youth.
AS: Lighting is really integral to our set design, and lighting designer Lydia Morgan has utilised it to create some beautiful moments. Make sure to look out for Grace's t-shirt which was created by our wonderful costume supervisor Charlotte Nicholson – we've had to keep it under lock and key to make sure it doesn't go missing!
How did your training enable you to bring this play to life?
LM: My year at BOVTS has given me the language and the tools to collaborate and create with my team. I've made so many fantastic working relationships this year, and the course has been invaluable in my realisation of the work I want to make and how I want to make it. Out of Love is the perfect microcosm of all I have learnt this year.
AS: BOVTS has an amazing culture of collaboration, and this production would definitely not have been possible without the hard work of every department. There is so much freedom for us to work together to try things out, but plenty of support if things don't quite go to plan.
Book your tickets for Out of Love at thewardrobetheatre.com.
For more information about training at Bristol Old Vic Theatre School please see our course finder.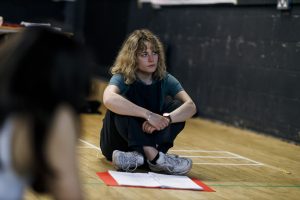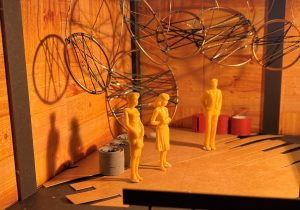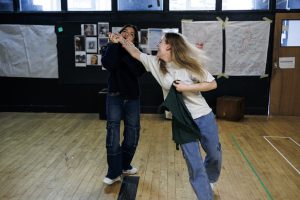 Rehearsal photography by Ed Felton; model box design by Alice Sales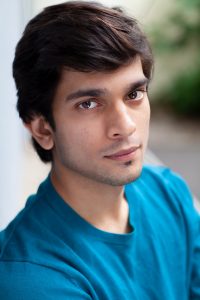 As soon as I visited the School, I fell in love with the place. Perhaps it sounds a bit irrational, but sometimes you get a vibe - and you just know! BOVTS gave me all the tools I needed to prepare for a career as an actor. Sahir Mehta, MA Professional Acting, 2018