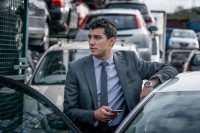 Published on:
25th January 2021
Taheen Modak trained on BOVTS' Professional Acting BA, 2015-2018. After graduating he performed in Arthur Miller's The American Clock at the Old Vic Theatre with director Rachel Chavkin, before being cast in the role of D.C Ahmed 'Med' Kharim in ITV's new crime drama The Bay. A second season has just premiered and is available now on ITV Hub.
Taheen took a moment to discuss his time training at drama school and offer advice for prospective students.
What was/were your favourite aspects of training at BOVTS?
Aside from the teaching, it was the location. As a Londoner, it was nice to get away and train somewhere that felt slightly removed from the chaos of the industry, and the license to focus solely on yourself and the work, without all the politics.
Why did you choose BOVTS?
A few reasons – one of them being they actually offered me a place! Part of it came down to the size of the classes. Fourteen students in a class meant that we received a lot of individual attention, which was important to me because I spent most of my time unsure as to whether I was actually any good at this, but because the numbers were so small, it seemed easier for the acting staff to keep track of our progress, to keep guiding us as best they could. But if I'm being completely honest, the School is amazing and I wasn't ever going to turn the offer down. I never thought I'd get a place. I was very much detached from the idea that I would ever go there, because I didn't plan on leaving London, which is probably why I got in.
Taheen as Dracula in the School's 2018 production
How did your course prepare you for your professional career?
That's a tough one, because even though I learnt a lot about approaching character, I learnt more about myself as a person, and from the short time I've spent out here working, I've come to learn, pretty fast, that people hire people – not just actors. The best actor doesn't always get the part, and negative and nasty people don't last long. So, the school giving me a better understanding of me, and how I should conduct myself as a professional, has been my biggest aid. I think I should also add that my time in drama school was really difficult. I found it tough to get mixed in with my group… that was probably my biggest challenge, but I definitely felt like I overcame that by the end and found a way to work with people who were very different from me. Challenges like that have made me a better and more well-rounded person, and therefore hopefully better at doing the job – I think.
What advice would you give to a student considering applying for Professional Acting at the School?
Something I keep telling myself right now, is to not sentimentalise too much – I find I have the most fun, and do the best work when I'm super relaxed, kind of nonchalant, and clear minded, and I wish I practised that a lot more, both when applying for drama school and when I got in. Another one, something that everyone tells you, and something that some incredible actors have told me out here (not just that Alan Rickman video)… but to go and do stuff that isn't related to acting, and most importantly, to not think about acting whilst you're doing it. A lust for life can only give you a richer understanding of people and the world.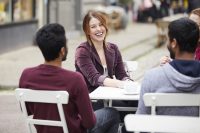 The training provided by the MFA programme is superb. The depth with which we explore, paired with unyielding curiosity that is met with the most knowledgeable, passionate, expert tutors is what makes BOVTS programme one of the finest around. I feel honoured to call BOVTS my grad school. Rachel McVay, MA Professional Acting Student