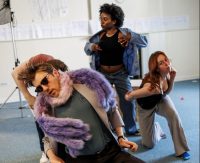 Published on:
31st May 2023
Bristol Old Vic Theatre School's Summer Festival runs at The Wardrobe Theatre from 25 May to 17 Jun. The season is comprised of 8 sizzling contemporary plays – ranging from apocalyptic comedies to psychological thrillers – presented by the School's graduating directors, designers, actors and technical theatre students.
We spoke to the student creatives at the helm of Marius Von Mayenburg's The Ugly One – director Natalie Simone and designer Vyshnavi Krishnan – about what audiences can expect at curtain up on Thu 8 June. They also told us how training at BOVTS has helped to shape their artistic approach.
The importance of beauty never seems to fade away but is it possible to become too beautiful? How much does your image shape your identity, and who are you really behind the veil of your physical self? For years, Lette has been blissfully unaware of his unusual appearance, but when the extent of his ugliness is pointed out, Lette feels he has no other option but to go under the knife. The Ugly One is a savage social satire which unravels in an absurd world where everyone begins to look the same.
What should audiences most look forward to in the play?
NS: The Ugly One is an electric unravelling of man's descent as he loses sight of his identity. The play is 65 minutes of uninterrupted dialogue as the incredible cast seamlessly glide through multiple dark and hilarious characters. The play never misses a beat, it is both anarchic and intimate. We have created a piece that really resonates with society today and hopefully everyone will see a part of themselves within it.
VK:  The vibrant costumes. They play a very important role in the visual storytelling of the various personalities in the play. Harry Styles references abound!
How did your training enable you to bring this play to life?
NS: BOVTS has provided me with the skills and understanding to collaborate with my creative team but mostly the course has been invaluable in developing my creative identity. Understanding who I am as a director, what stories I want to tell and how to tell them. The Ugly One is a perfect blend of the skills I have developed, my creative identity and a beyond brilliant team!
VK: My training as helped me to explore and develop designs for many different genres of performance, as well as refining my own designing language.
Book your tickets for The Ugly One at thewardrobetheatre.com.
For more information about training at Bristol Old Vic Theatre School please see our course finder.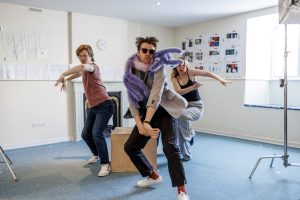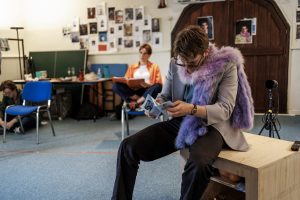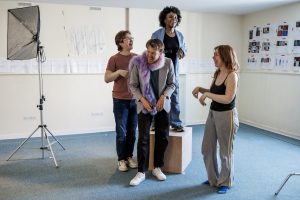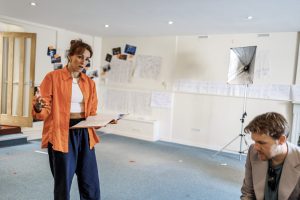 Rehearsal photography by Ed Felton; costume and set design by Vyshnavi Krishnan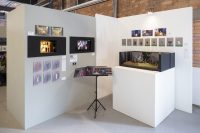 Training at BOVTS set me up with the skillset, confidence and connections for the career I now have as a freelance theatre designer. Max Johns, MA Performance Design Alumni