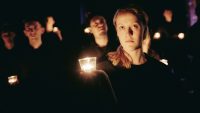 Published on:
24th February 2020
****
Welcome to Laramie, Wyoming – population 26,687. Here we find a small town shaken by a shocking event which impacted almost everyone who lived there. Although this play was first performed 20 years ago, it still feels so current and real for the world we live in today.
The Laramie Project was originally performed by the Tectonic Theater Company, which visited Laramie following the brutal attack on a young gay man in rural Wyoming to interview the locals effected by the events. The play was written by the company along with Mois?-s Kaufman.
The young cast of the Bristol Old Vic Theatre School perform now, under the direction of Nancy Medina, the current guise of this play, which features an ensemble cast acting as both the New York theatre group themselves along with a range of local Laramie residents who were interviewed for the project.
Much of the dialogue is verbatim, and the performers skilfully define each character and deliver the script with finesse. Dressed in simple boiler suit costumes, the individuality and quirks of each interviewee is portrayed through mannerisms, dialects and sometimes the announcement of their name.
Throughout the play, however, there is an increasing use of additional costuming to further bring to life the cast of characters. Bea Wilson has designed a subtle way of using costume to enhance the personality traits and position of the people of Laramie. From the addition of a simple hat or cardigan to a garish shell suit complete with homophobic slur, we begin to really know these people and their very personal stories.
The Weston Studio is an ideal location for this play, and the space is used to its best advantages. From the opening scenes, there is eye contact and direct communication. We are being drawn, intimately, into this conversation.
It is a complex and powerful topic, and the themes of religion and the nature of the homophobic attack are not avoided, but instead embraced and explored. The strength and love that people find through diversity, and the pain and magnitude of hatred, is palpable. This will stay with you.
****
Though we are never directly introduced to Matthew Shephard his presence is all over The Laramie Project. He is in the stooped shoulders of the residence hanging around a bar, he is present in their defensive reactions to questioning, their furtive glances as their unease with difference is aired to a group of New York theatre-makers. If the small (he was reported to be little more than 5'2), queer Shephard was little more than a parenthesis in the history of Laramie, Wyoming before, he became a significant chapter on the night of October 6th 1998, when he was beaten, tortured and left for dead by two men who may have been driven to commit the crimes due to his sexual orientation. Tragically six days later, he was dead.
Moisés Kaufman's verbatim play is not exactly an easy watch. Over 2 ½ hours, its audience is made to pay witness to viewpoints and crime details which explore the darker elements of the human soul. In closed-minded, small Laramie, to be gay was to be different and to be different could get you hurt. Conservative Christians from the Westboro Baptist Church who campaign against 'fags' rub shoulders with disaffected young men who claim they are fine with people's sexuality as long as they don't have to encounter it. Its long, first half feels particularly tough, you come out at the interval needing not only a stiff drink but probably also a shower to rub the stench of bigotry off you.
Yet somewhere within this hope still resides. It's in the students who attended the funeral of Shephard and formed circles around the picketing Westboro bigots wearing wings that made them resemble angels. It is there in Shephard's Father who makes a final moving speech to a jury about not putting his son's killer to death. Even in the bleakest of moments, light can breakthrough.
The graduating class of BOVTS handle the challenges the play poses well. Kaufman's work is adapted from over 200 interviews that he and his company the Tectonic Theatre Company conducted in the City, condensed and moulded into dramatic shape. Almost inevitably, the characters are little more than snapshots, yet the overall characterisation is shaded enough not to fall into caricature. Dialect coach James Gitsham has done an admirable job in ensuring the Western American accents of Wyoming and the Bronx accents of the theatre crew are sharp and on point.
The text and Nancy Medina's fluid, lively production ensure that a play without direct character interaction feels connected and well populated. The funeral scene is elegantly staged as candle after candle is snuffed out while the courtroom scenes take on the air of a thriller as a killer's life is debated in the dock.
In a strong cast of 15 multi-rollers, there is particular stand out work from Isobel Coward as the first police presence on the crime scene who may have become infected with HIV as a result, Sebastian Orozco as a wisecracking taxi driver and Danial Radze who flicks in an instant from killer to father, movingly delivering a eulogy about his fallen son.
Paired in the same week as Her Naked Skin under an LGBT themed season, the work showcases that in the battle for equality, work still needs to be done. The memory of Shephard and others murdered for who they are resonate with as much force as Emily Davison sacrifice under the King's horse. The battles continue.
Creative Reviews UK – Richard Windsor
****
To Celebrate LGBT History Month, and marking the 20th Anniversary of Moisés Kaufman harrowing play, The Laramie Project tells the verbatim aftemath of Matthew Shepard's murder in 1998, and how it changed the community of Laramie in Wyoming, with a population of 26,687. For this particular production, Nancy Medina has taken the directorial position, with Laura Hensley assisting Medina in this Bristol Old Vic Theatre School offering.
We're transported straight to Laramie when the lights dim for the first act as we hear from a plethora of citizens in the area, who recall the days before Shepard's death, as reports travel to unravel the lead-up to the shocking events. This cast, made up of a fifteen strong ensemble, move with precision and drive as we bounce from one report to another, each performer portraying at least four to five locals, which comes with a flurry of personas and facial expressions which pushes the creativity of Bea Wilson's costume design, which is set against Carly Brownbridge's splintered reflected backdrop, which swivels round to reveal pivotal projections of news outlets, the clear blue sky, and a thundering storm that rains down at the climax of the first act.
Amongst the ensemble members, those who stand out particular for their skill of mulitoling range from Rory Alexander, Olivia Edwards, Nimshi Kongolo, Alice Moore, and Daniel Radze. It's Sebastian Orozco as Doc O'Connor, and Isobel Coward's Reggie Fluty, who will both truly silence the auditorium so much as to hear a pin drop, from their horrendous and frankly powerful speeches; O'Connor's constant updates of Shepard's health status in hospital accumulates to a resting monologue that Orozco delivers with sheer vulnerability and heartbreak, whist Fluty's in-depth description of Shepard's body when he was initially found lying on the ground is a defining moment for Coward, who overall continues to deliver nothing but perfection in every persona she exudes.
Jenny Roxburgh's lighting seeps throughout the playing space and bleeds into the audience as specific states highlight the light and dark of those who have lived in Laramie, which Danny Davie's sound design makes you feel uncomfortable, in moments of deep thought which merge chattering with games entertainment in the background during scenes set inside the tavern, which news reports hurl and fill your head following the attack on Shepard, with a ghostly sense of horror as we watch on.
Overall, Bristol Old Vic Theatre School's staging of Kaufman's piece feels as powerful and underrated as ever, with some truly harrowing moments of dread and electric performances, making it's themes feel all too real and almost like set during our time, a sign that change is still to come.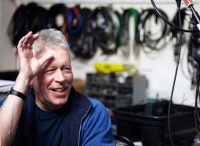 Students developing and growing in confidence during their time here, seeing their work reaching professional standards in approach and execution; a student who intends to be a stage manager producing a wonderful sound design; a first year student making a lovely recording of a song for their recording project; tracking the careers of former students and seeing them be successful; being able to find a job opportunity for a recent graduate. Frank Bradley, Sound Tutor