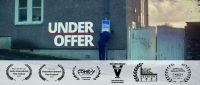 Published on:
12th October 2023
The Bristol Old Vic Theatre School short film, Under Offer, has been performing well at a circuit of independent film festivals over recent months. The professional-standard short was directed by Vince Pellegrino and produced by students and staff at the School's media teaching facility, Christchurch Studios, throughout the 22-23 academic year.
The film features last year's graduating BA Professional Acting students and was produced by technical students on the BA Production Arts (Stage and Screen) course who have chosen to specialise in filmmaking in their final year of training. Under Offer follows the antics of two squatters, a young family, and two undercover property developers engaging in a whimsical showdown for a house, while an estate agent endures a comically disastrous first day.
The mischievous film's wins include Best Short Film at Aasha International Film Festival, Best Original Score/Soundtrack at Best International Film Festival, Honourable Mention at Night of Comedy Shorts and Official Selection at Greece International Film Festival.
Charlie Parkin (Head of Screen Production) commented, "It's wonderful to receive these awards for one of our short films produced here in the Screen Department. It's a testament to the hard work and incredible talent of our Production Arts students who crew and produce up to seven of these films per year, all to the same cinema quality.
"It honestly never fails to amaze me how much heart and soul goes into each and every one of these productions, and I hope the students involved are as proud as I am! A massive thank you to all of the staff and visiting professionals involved who brought their style, wisdom and commitment together to inspire the next generation of passionate filmmakers and actors on this wholesome little comedy!"
Congratulations Team Under Offer! Watch the award-winning short film below.
Directed by Vince Pellegrino†; Written by Ben Clough*; Produced by Richard Maxwell†;
Director of Photography – Louie Blystad-Collins*; Edited by Dan Knipe‡
* Visiting Professional    † BOVTS Staff    ‡ Student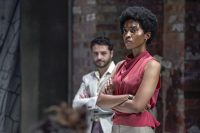 In just one year the MFA programme has given me the confidence in my artistry and the tools to work professionally that I lacked prior to my training. N'Dea Miles, MFA Professional Acting Student