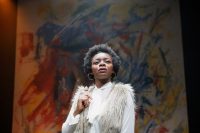 Published on:
3rd May 2019
We are delighted to announce that Moronkẹ Akinola, currently in her final year of the BA in Professional Acting course, has won the 2019 Alan Bates Award run by The Actors Centre, London. Now in its fifteenth year, The Alan Bates Award has established itself as the most prestigious award for graduating drama school students. Every year, one winner is the lucky recipient of a prize package worth over £5000, comprising of everything they might need for a successful launch into the profession.
Through a series of audition rounds including a semi-final and a final, the successful students perform in front of an experienced industry panel that in the past has included Hannah Miller (Head of Casting at the RSC), Alex Jennings, Julia Crampsie (casting director) and Janet Suzman. The award is named after Sir Alan Bates, patron of the Actors Centre from 1994 until his death in 2004. Sir Alan was passionate about the craft of acting and was intent on supporting young talent entering the profession. It is in his memory and in honour of his inspirational work that the Alan Bates Award is presented annually to an actor of exceptional talent.
BOVTS alumna Georgia Frost won the same award in 2017 and the School is very proud of our record in the competition. This year, Eva O'Hara was also one of the final six, and last year three of the final six actors were representatives of BOVTS.
You can see all our graduating BA and FdA Professional Acting students together in the upcoming Life and Adventures of Nicholas Nickleby, playing at Bristol Old Vic between 14 – 22 June.
Well done Moronkẹ! We look forward to following your successful career in the coming years.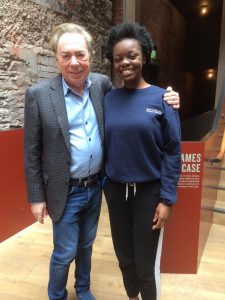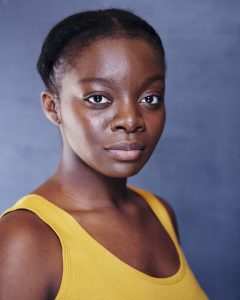 Images:
Moronkẹ with Andrew Lloyd-Webber at Bristol Old Vic. Moronkẹ was the recipient of an Andrew Lloyd-Webber Foundation scholarship to support her training at the School. Further information about the scholarship scheme is available on the ALWF website. Photo by Pam Rudge.
Headshot by Jon Holloway.
Main image: Moronkẹ appearing as Flora Schreiber in the Dissociation of Shirley Mason at Bristol Old Vic. Photo by Craig Fuller.
Further information about the Alan Bates Award can be found on the webpages of the Actors Centre.
Congratulations to Moronké Akinola, winner of the Alan Bates Award 2019!

We're very proud to sponsor and support this fantastic initiative for new actors entering the industry – here's Moronké at this evening's ceremony with all the other fantastic finalists. 👏👏👏 pic.twitter.com/ninII515BH

— Nick Hern Books (@NickHernBooks) May 2, 2019
Bristol Old Vic Theatre School (@BOVTS) student Moronke Akinola has been announced the winner of the 2019 Alan Bates Award for most promising actor in the final year of drama school https://t.co/lIAvONx0WB pic.twitter.com/Su3TYDnziB

— The Stage (@TheStage) May 2, 2019
Had the pleasure of being on the judging panel for this and saw so much talent. Huge congratulations to Moronke Akinola and everyone who took part. https://t.co/XvdCm4QoJR

— Steven Kavuma (@_StevenKavuma) May 2, 2019
It was an absolute honour to meet and watch these 6 finalists work today.
If they are what the future holds, the future is bright!
Moronke a deserved winner alongside Gilbert and Jemma as runner-ups.
I can't wait to see what they do next.
All 'makers' creating their own work ACE! https://t.co/zAUGUEfvuE

— Jade Anouka (@JadeAnouka) May 2, 2019
Super happy and proud to say I am this years runner up in the Alan Bates Award 2019 with the @theActorsCentre – what a beautiful group of people to have gotten to know and work with. Big congrats to Moronke – and for being the best partner. What a brilliant opportunity. pic.twitter.com/AhFo6Y2ZtN

— Jemma Carlton (@Jemcarlton) May 3, 2019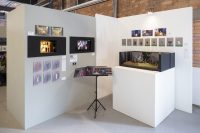 Training at BOVTS set me up with the skillset, confidence and connections for the career I now have as a freelance theatre designer. Max Johns, MA Performance Design Alumni