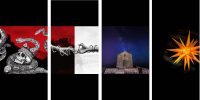 Published on:
5th October 2021
After eighteen months of lockdowns, BOVTS is delighted to be presenting in-person work in Bristol's theatres once again.
We're already celebrating our 2021 graduates' successes, with students working on film and television projects with Netflix, Amazon and the BBC, and taking roles in theatres as they reopen across the land, not to mention a double Emmy Award win for our alumni Olivia Colman and Josh O'Connor for their roles in The Crown.
There's lots for us to look forward to in the coming year. Our final year students begin their autumn term with a double bill of Shakespeare. His compelling tragedy of greed and ambition, Macbeth, plays at Bristol Old Vic's Weston Studio and is directed by Ng Choon Ping, and designed by Choy-Ping Clarke-Ng 吳彩萍, who graduated from the School's MA Performance Design last year, and was awarded the John Elvery prize for exceptional work.
Reuniting the team behind the School's online production of Pericles in 2020, that enduring tale of love and loss, Romeo and Juliet, plays at the Redgrave Theatre, in a production directed and designed by BOVTS alumni Aaron Parsons and Aldo Vasquez.
Rounding off the year, Hanna Adu-Boateng, our new Acting Tutor, will be directing the welcome return of Kim Durham's The Nativity: While Shepherds Watched, which tours Bristol's schools, before public performances at the Redgrave. We'll also be presenting Follow the Star, a new Nativity tale from Philip Monks, directed by Chloe Masterton at Cotham's Parish Church on 14 November. Both shows are designed by Meriel Pym. We hope you'll join us and get in the festive spirit.
We look forward to welcoming you to our shows this season. It's great to be back!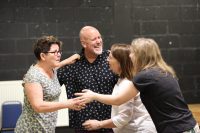 The culture at BOVTS is encouraging, respectful, welcoming and empowering; the environment and buildings are beautiful and I found Bristol to be one of the most wonderful cities in which to spend summer! Lindy Yeates, Foundation Course Student