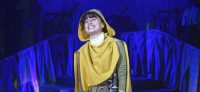 Published on:
27th January 2023
Bristol Old Vic Theatre School is thrilled to announce that a third year BA Professional Acting student has been selected as the first recipient of the David Banks Performers Fund. Established in 2022, the Performers Fund is a new initiative supporting actors from a low-income background during their training.
Melina Sinadinou is in her final year at Bristol Old Vic Theatre School, and has recently appeared at The Redgrave Theatre as 'Marian' in a BOVTS production of Theresa Heskins' Robin Hood & Marian  (above). The prize will enable Melina to relieve herself of some of the financial pressures which can come with the final year of drama school, such as limited time to undertake paid work.
The Performers Fund is named after David Banks, a Sussex born-and-bred lover of the arts. Raised in Eastbourne during the 1940s, David comes from a working-class family and has enjoyed theatre, music and dance throughout his life, regularly regaling any who will listen with his tales and jokes about the old Sussex folk scene. Recently diagnosed with Dementia, David is unable to manage the fund himself which has been set up by his family.
Melina commented, "I am so grateful to be the first recipient of the David Banks Performers Fund. To have this support during my final year of training has taken a huge weight off of my shoulders. It's with thanks to external support like this, that I am able to put my full focus into my training."
Amy Sparkes, David's daughter and an administrator of the Performers Fund, commented: "We are fully aware that the creative industry is tough enough as it is without having additional financial pressures. We are keen to work with students who are at a disadvantage to try and level the playing field and give them the best possible opportunity.
"We have attended several BOVTS shows and have been impressed with the calibre of the students.  We are delighted to form a partnership with the Theatre School and hope we can make a difference to the recipient students."
To find out more about the David Banks Performers Fund please visit dbpf.org.uk.
Header image: Craig Fuller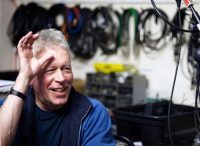 Students developing and growing in confidence during their time here, seeing their work reaching professional standards in approach and execution; a student who intends to be a stage manager producing a wonderful sound design; a first year student making a lovely recording of a song for their recording project; tracking the careers of former students and seeing them be successful; being able to find a job opportunity for a recent graduate. Frank Bradley, Sound Tutor