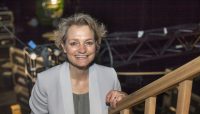 Published on:
21st May 2020
We are delighted to announce that Fiona Francombe has been appointed as the School's new Principal/CEO. Currently Director of The Bottle Yard Studios in Bristol, Fiona will take up her new position at the School over the summer. 
Fiona trained in technical theatre at Rose Bruford College, before embarking on a career in stage management, working at Manchester Royal Exchange Theatre Company and the Royal Shakespeare Company. She moved into the TV industry in 1990 in London, joining the BBC's Drama department as a runner.
Following her move to Bristol in 1993, Fiona worked both for the BBC and as a freelancer for a variety of television dramas as a location manager and producer, before going on to manage production liaison for South West Screen and Creative England. In response to the BBC's 2009 decision to relocate production of dramas such as Casualty to Cardiff, she successfully lobbied Bristol City Council for support in retaining production industries in the city. In 2010 she went on to establish The Bottle Yard Studios in previously disused warehouses on a seven-acre site situated on the southern outskirts of Bristol. The Council-owned studios are now established as one of the leading production facilities in the country, contributing greatly to the millions generated by the media sector for the local economy each year.
Over the past decade, more than 60 titles have been produced at the Studios, including high-end TV dramas Poldark, Broadchurch, Wolf Hall, The Trial of Christine Keeler and The Pale Horse, light entertainment programmes such as The Crystal Maze and Tipping Point, and children's favourites such as the green-screen series Andy's Adventures. Fiona has consistently championed Bristol as an international hub for film and TV production and was instrumental in the city's successful bids to become a UNESCO City of Film in 2017 and a Channel 4 creative hub in 2019.
Commenting on her forthcoming move to the School, Fiona said: "BOVTS is a gem of an institution and part of one of the UK's leading conservatoires. I have always respected and admired its extraordinary reputation for nurturing excellent talent, from my years starting out in theatre stage management, to my subsequent move into television and more recently as visiting guest lecturer for the BOVTS Film/TV department.
"I'm very excited to be joining the team, and personally pleased to be bringing my professional career full circle. I have always wanted to make a difference for Bristol; this move will allow me to continue to do so after ten years developing The Bottle Yard Studios into a competitive film and television hub the city can be proud of."
Fiona is no stranger to BOVTS graduates either. Countless School acting and production alumni have filmed at the Studios for internationally-acclaimed productions including Tala Gouveia starring in ITV crime drama McDonald and Dodds, Sean Pertwee in the BBC's latest Agatha Christie thriller The Pale Horse – along with BOVTS graduates serving as script supervisors, location managers and costume assistants; Theo James and Adrian Scarborough in ITV's recent Austen adaptation Sanditon; and Laura Carmichael in Starz' historical drama The Spanish Princess.
Oscar, BAFTA and Golden Globe winner and BOVTS alumna Olivia Colman also filmed the final series of Broadchurch at the Studios, the crime drama which propelled her to international stardom. The series was produced by another BOVTS alumnus, Dan Winch.  Responding to the news, Dan – who also produced ITV's recent Quiz as well as dramas such as A Very English Scandal, said: "Fi's incredible experience, understanding of the complexities of creative relationships, passion for the creative industries and ambition have brought huge success to Bristol in recent years. Highly respected and admired by all those who've worked with and alongside her, both in front of and behind the camera, Fi's warmth and supportive approach to all she undertakes makes her the most brilliant fit for BOVTS."
The news of Fiona's appointment comes following the announcement in December that current Principal, Paul Rummer, would be retiring after thirteen years at the helm of BOVTS – and thirty-five years at the School in total. Fiona is set to join BOVTS in August, as the School approaches its 75th birthday celebrations next year.
Lucy Bowden led the search for the new Principal as Chair of the School's board of trustees. Lucy comments: "I am absolutely delighted that Fiona is joining the School and I believe that she will take it forward with passion, energy and confidence. This is an unprecedented time, when the pressures on conservatoire training have never been greater. But Fiona brings huge practical and commercial experience in the arts, and this will be invaluable in continuing the School's success."
She continued: "Fiona has a love for the city of Bristol. Under her leadership, I'm confident that the School will continue to thrive locally, as well as nationally and internationally, consolidating Bristol Old Vic Theatre School's reputation as a world-class institution for drama and production arts training."
Paul and Fiona will be working closely in the coming months to ensure a smooth transition in the School's leadership. We look forward to welcoming Fiona to BOVTS in the coming months.
For further information, or for a full copy of the press release, please contact [email protected].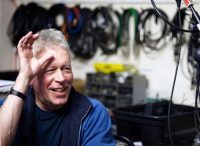 Students developing and growing in confidence during their time here, seeing their work reaching professional standards in approach and execution; a student who intends to be a stage manager producing a wonderful sound design; a first year student making a lovely recording of a song for their recording project; tracking the careers of former students and seeing them be successful; being able to find a job opportunity for a recent graduate. Frank Bradley, Sound Tutor