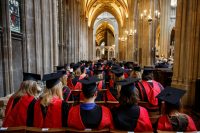 Published on:
14th October 2019
The School extends its warmest congratulations to the class of 2019, who graduated in a ceremony at St. Mary Redcliffe church on Sunday 13 October.
The ceremony was opened and a congregation declared by Professor Martin Boddy, one of the School's trustees and a Pro-Vice Chancellor of the University of the West of England (UWE Bristol), which has been the validating university for the School's programmes since 2000.
This year's honorary guest speaker was Tom Morris, Artistic Director at Bristol Old Vic, who addressed the graduands in a lively and inspiring speech. Tom spoke of the close and enduring relationship between the Bristol Old Vic company and the School, established together in 1946, and whose ongoing collaboration has most recently resulted in co-productions such as King Lear, The Elephant Man and New Plays in Rep.
Tom explained that an 'inspiring, ongoing and live collaboration with a drama school' was how he envisaged all twenty-first century theatres should operate. Taking centre stage in the medieval church, Tom spoke of the importance of arts training in the twenty-first century, explaining to the graduands that they were part of a new generation of artists in Britain who were collectively ensuring that 'art represents every walk of life' and 'telling the stories that needed to be told within our country.'
He told the graduates that equipped with their training from the Theatre School they had the power to make change – and, through their storytelling, make change for everyone else possible. Tom suggested their job as an artist, regardless of discipline, was 'to look at this crazy world we're in, and when it doesn't make sense, look again. Use your skills and vision so that other people can understand this world through your eyes.'
After the conferment of degrees, the graduates were treated to a musical medley of singing from the final year students on the FdA Professional Acting course, arranged and conducted by Head of Music and Singing, Pamela Rudge.
"To the ones who've left
You're never truly gone
A candle's in the window
And the kettle's always on."
Welcome to the Rock by Sankoff & Hein, Come From Away
Photographs from the ceremony can be seen on the School's Facebook page and by following the hashtag #BOVTSGrad19 on Instagram.
My loves, my home. Thank you @BOVTS 💛 pic.twitter.com/CiFqMQAmh9

— Lydia Gard (@Lydia_Gard) October 13, 2019
'The job of an artist is to look at this crazy world as honestly as you can …. for me it's vital that people are being trained to the standard you're being trained here..' @tommozzer speaking at @BOVTS graduation ceremony 2019 @JennyBOVTS #BOVTSGrad2019 pic.twitter.com/kt18pwHOWE

— Morag Massey (@moragmassey) October 13, 2019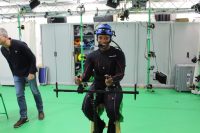 As a student, the most important aspect of a course is putting into practice what you've been learning, and we do that constantly. I cannot recommend BOVTS enough - my showreel has never looked better! April Storm Perry, MA Screen Acting Student