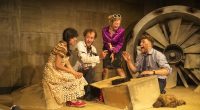 Published on:
2nd October 2023
A BOVTS-trained company are taking their Summer Festival hit – Tom Basden's plane crash comedy, Holes – to the Wuzhen Theatre Festival this October.
Lead by creative duo Lydia Cook (Director) and Chen Chen (Designer), and joined by a team of graduate actors and technical theatre students/graduates, the company will take their production to one of China's most prolific theatre festivals. The festival is described as a 'grand celebration of the arts, and a hub for cultural exchange'. The performances at the Festival are comprised of four categories: Specially Invited Plays, the Emerging Theatre Artists Competition, the Outdoor Carnival and the Wuzhen Dialogues.
Holes originally ran in late May as part of Bristol Old Vic Theatre School's Summer Festival at The Wardrobe Theatre. The Summer Festival is an opportunity for MA Drama Directing and MA Performance Design students to take the creative reigns of a show, up until this point having assisted the visiting professionals who are contracted to work on the School's productions.
Designer, Chen Chen, commented: "We're thrilled to be taking Holes international by brining it to the Wuzhen Theatre Festival. It's an exciting journey, and we can't wait to share our production with a broader audience."
Director, Lydia Cook, commented: "It's an incredible honour to present our show at the Wuzhen Theatre Festival in China, alongside the amazing cast and crew of Holes. I am absolutely thrilled to have the opportunity to work with my BOVTS cohort and embark on this creative journey together."
Congratulations, team! Break a leg.
Writer – Tom Basden
Cast – Peter Burley, Tom Canavan, Lucy Pascoe, Melina Sinadinou
Director – Lydia Cook
Set and Costume Design – Chen Chen
Lighting Design & Operator – Jacob Manston
Sound Design – Matt Maxfield-Phillips
Stage Manager – Lara-Louise Jones
Technician & Sound Operator – Jude Fullwood
Costume Supervisor – Ava Rowan Harker
Prop Supervisor – Em South
Deputy Prop Supervisor – Ebony Hayes
Dead Marmot Make – Eva Harris
Props – Freja Abrahams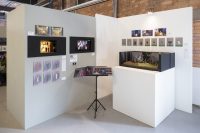 Training at BOVTS set me up with the skillset, confidence and connections for the career I now have as a freelance theatre designer. Max Johns, MA Performance Design Alumni