Published on:
21st January 2021
In the wake of the killing of George Floyd, a band of artists created pieces using their mobile phones to share their feelings concerning the inner sorrow of police brutality, injustice and systemic racism.
Multiple students & alumni from Bristol Old Vic Theatre School have created 'I Can't Breathe', which premiered this week.
The short film is written & directed by BOVTS student Lionelle Nsarhaza and features BOVTS alumni Kel Matsena, Denzel Baidoo, Issam Al Ghussain, Ben Prusiner.
Speaking to the School, Lionelle said, 'The team and I hope that this piece allows people to reflect on their livelihood, and through its poetic prose, raise some questions. It is not to cause a divide but form unity through reflection.'
You can read an interview with Lionelle in Bristol 24/7.
'I Can't Breathe' is available to watch now.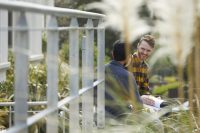 The School is in a beautiful part of Bristol, overlooking a huge park called the Downs. We sometimes take advantage of our close proximity to the Downs during the summer term, practising fight and dance routines, or voice or singing classes! Dan Hall, BA Professional Acting student