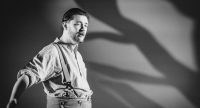 Published on:
16th October 2023
Welcome to In the Limelight. Over the next academic year we will interview a new member of the BOVTS community every week, casting a spotlight on the creativity and diversity at the heart of our drama school.
Hello! Please introduce yourself.
Hello there! My name is Sol Taibi, my pronouns are he/him and I am a BA Professional Acting Student!
You're coming to end of your drama school training. How's third year treating you?
It's awesome! It's very intense of course – but I'm a big fan. I am very blessed to be coming into the School everyday and doing what I love! I feel we are all working at a professional standard now and we have all grown so much in the past three years. I'll be starting rehearsals for Into The Woods next week (which opens on the 28 November at The Redgrave Theatre) so we've also got plenty of admin to be doing as well as lots of singing!
Last year you were awarded the Luke Westlake Scholarship from Just Add Milk. How important are these opportunities for young performers?
For me, these opportunities are paramount. Going into the industry as a working class actor it's already backs to the wall, so the more we can help each other out the better everything will be. Wonderful organisations such as Just Add Milk and Open Door have changed the game in the past few years and we need to keep supporting their efforts, and getting working class people into drama schools and the industry. In fact, one day I would like to have my own scholarship and pay for a working class actor to get through drama school.
This term you've also been managing the Bristol Old Victor Moses football team (part of the Drama School League). It seems like it's been a lot of fun?
It's been a fantastic experience. The team work really hard and winning games is certainly very fun!
Are you more of a shouty manager if things aren't going well, or a supportive arm around the shoulder type?
During the game I'm a very shouty manager, but after the game you've got to protect the players and let them know they've done well.
Do you have any advice for a young person who is preparing for their drama school audition?
Loads! It took me six times to get in (to BOVTS) so I've had a journey and a half. Here are my top tips:
1. Pick monologues that you like and that you want to talk about in your interview.
2. Be yourself when they ask you questions. Don't try and impress the panel by giving an answer you think they will like.
3. Relax, take a minute to think before you answer.
4. Remember that you're auditioning the drama school as much as they're auditioning you. They need you to be a brilliant artist in your time when you're training and beyond – but if you don't vibe with the school at the first step, that's also okay.
5. Lastly, and most importantly, if you don't get in on your first time it's not the end of the world. You may face lots of rejection in your career and not getting into drama school on your first time is just one of many. If you're hungry to learn, have an open heart and want to be a brilliant artist, drama school is probably the place for you.
Each week we hand the mic over the interviewee. Last week, Martha Maloney wanted to know: " What is an interesting fact about yourself that often surprises people?"
When I was younger I hated youth theatre! I went for about six months when I was thirteen and packed it in. All because I was dancing (or trying my best to dance) and I thought, "oh no this isn't for me". But look at me now!
Finally, what's your question for the next face of BOVTS?
Starter or dessert, and why?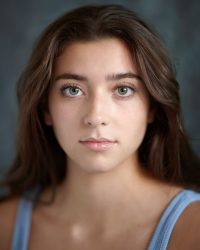 One of my favourite parts about BOVTS is that it feels 'homegrown'. From the set to the costume, lighting, acting and sound, every single aspect of a theatre production or film is down to the students. The location of Clifton is so serene and the School being so small everyone knows each other and it feels so personal and special. Violet Morris, BA Professional Acting Student