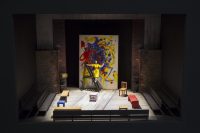 Published on:
16th July 2019
The School is delighted to announce that five of our MA Theatre Design graduates have been selected to participate in The Linbury Prize for Stage Design.
The prestigious prize, awarded every other year by The Linbury Trust, recognises excellence in performance design amongst recent graduates. The prize offers twelve finalists of design degree programmes the chance to work with some of the UK's leading theatre, opera and dance companies.
Competing for the 2019 prize are alumni from the graduating MA Theatre Design classes of 2018 and 2019, including Caitlin Abbott (MA, 2018), Alana Ashley (MA, 2019), Robin Davis (MA, 2019), Emily Leonard (MA, 2018) and Stavri Papa (MA, 2018).
Angela Davies, Head of Theatre Design at the School said today: "I am thrilled that our graduates have been successful in the first round of the Linbury Prize. It is testament to their hard work, determination to succeed and above all else their individual talents. I am incredibly proud of all their achievements."
As a former winner of the prize, Angela knows only too well the standard of the entries, explaining: "The Linbury Prize is open to graduates from all theatre and performance design courses. As the only graduate prize of its kind in the UK, there is an extremely high level of competition and the judges will see exceptional design skills across the board."
In the next stages, finalists will present their portfolios to the prize judges and then representatives from commissioning production companies, which this year include Birmingham Royal Ballet, Leeds Playhouse, Nuffield Southampton Theatres and Octagon Theatre, Bolton.
From these rounds, twelve finalists will be selected to work on costume and set designs between August and November 2019, culminating in a design exhibition at the National Theatre. Four winners will be chosen who will receive a commission to realise a production, launching their professional career.
Jenny Stephens, Artistic Director at the School, added "All our graduates are extremely deserving and to have five of them in the competition is not only an indication of their individual skills and talent, but also of the outstanding training they have received under Angela's guidance.
"We wish all of them the very best of luck and look forward to following their progress in the next stages of the competition".
For further information about the completion, please see the Linbury Prize website.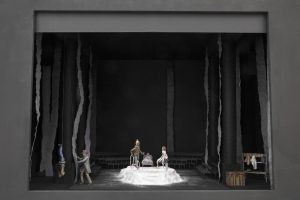 Alana Ashley's 1:25 scale model set design for Let the Right One In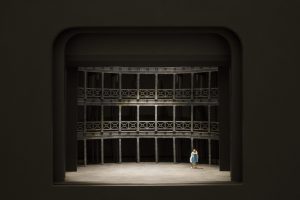 Robin Davis' 1:50 scale model opera project design for Dido and Aeneas
Main image: Robin Davis' 1:25 scale model set design for The Dissociation of Shirley Mason.
Photography by Craig Fuller.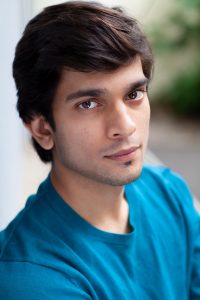 As soon as I visited the School, I fell in love with the place. Perhaps it sounds a bit irrational, but sometimes you get a vibe - and you just know! BOVTS gave me all the tools I needed to prepare for a career as an actor. Sahir Mehta, MA Professional Acting, 2018