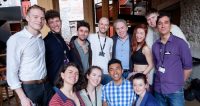 Published on:
20th March 2019
The cast and crew of the School's New Plays in Rep production, Mr Maglump, were thrilled to meet Andrew Lloyd Webber on Saturday 16 March, who had made a special trip to Bristol Old Vic to watch the new show.
Drawing on the School's close relationship with the theatre, the New Plays in Rep Season is the latest collaboration between the two organisations, showcasing new writing developed through BOV's Writers' Department and harnessing the School's emerging creative and technical talents.
In total, the season saw two fully-staged productions and four workshop pieces with a lighter technical touch performed at Bristol Old Vic. From settings as diverse as an isolated Cornish fishing village to 1950s small-town America, the season raised timely questions about mental health, exploitation of the environment, identity and abuses of power.
Mr Maglump, a new family musical for all ages, focused on themes of integration within communities and the importance of remaining true to oneself. The story follows a small family, the Robins, living on Chipson Street – where everybody does everything together – as they discover that their rather miserable neighbour has a rather wonderful past and story to tell.
Andrew is reported to have enjoyed the show immensely and generously stayed behind after the show to meet with the Maglump team, including staff and students from the School. Writer of Mr Maglump, Brook Tate, later commented on Twitter: 'Thank you so much @OfficialALW. Your music filled my head, heart (and shower) for the majority of my childhood and teenage years and I wouldn't have done this without it. Eternally grateful'.
The cast and creative team received a standing ovation from the audience at curtain call. Final year acting student Anna-Kate Golding added on Twitter: 'Life is bonkers sometimes. What an honour to perform Mr Maglump this morning to a theatre full of love and happiness. A piece of art that can touch your spirit and reconnect you to humanity is a rare occasion.'
The School would like to thank all of those involved in making the New Plays in Rep season such a success and we look forward to our next collaboration with Bristol Old Vic. Further information about Mr Maglump is available from Brook Tate's website. The Bristol Old Vic website contains
further information about the Writers' Department, including the annual 'Open Session', through which the script was developed.
Main picture: Cast of Mr Maglump, Brook Tate (Writer), James Peries (Literary Associate at Bristol Old Vic) and Andrew Lloyd Webber. (Photo: Jon Craig)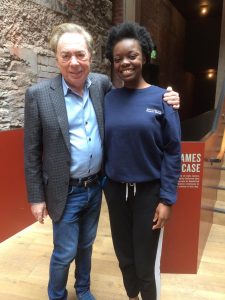 Final year acting student Moronké Akinola, recipient of an Andrew Lloyd Webber Scholarship, meeting Andrew at the Bristol Old Vic. (Photo: Pam Rudge)
When I was 11 I came to Bristol for a school trip to see Joseph. Yesterday I was lucky enough to perform in a brand new musical #MrMaglump at @BristolOldVic and we were joined by @OfficialALW Lots of things I didn't think would happen, very special day. Love to @brooktatearts https://t.co/pwOeK2eVeR

— Tom Briggs (@ITommyBriggs) March 17, 2019
Still shocked from the audience standing ovation after Mr Maglump yesterday! Thank you @OfficialALW for coming to dinner! And thank you @brooktatearts for making it #mrmaglump https://t.co/5RFJu1Q7V9

— Shane David-Joseph (@sdavidjoseph) March 17, 2019
Life is bonkers sometimes. What an honour to perform #mrmaglump this morning to a theatre full of love and happiness. A piece of art that can touch your spirit and reconnect you to humanity is a rare occasion. So happy to be able to be a part of @brooktatearts creation. Thank U https://t.co/togcZZj0Mx

— Anna-Kate Golding (@AKGolding) March 16, 2019
Thank you SO much @OfficialALW. Your music filled my head, heart (and shower) for the majority of my childhood and teenage years and I wouldn't have done this without it. Eternally grateful. @BOVTS, @BOVwriters and @BristolOldVic have changed my life and helped my heart. ❤️🎺 pic.twitter.com/li1aA5ILG4

— Brook Tate (@brooktatearts) March 16, 2019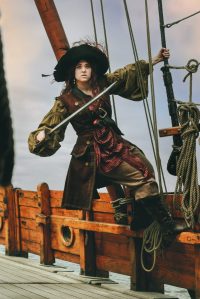 I absolutely love working backstage. It was something I had never done before arriving at BOVTS and I'm so grateful for the opportunity. Madi Barncoat, BA Costume Student