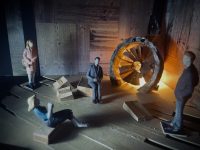 Published on:
16th May 2023
Bristol Old Vic Theatre School's Summer Festival runs at The Wardrobe Theatre from 25 May to 17 Jun. The season is comprised of 8 sizzling contemporary plays – ranging from apocalyptic comedies to psychological thrillers – presented by the School's graduating directors, designers, actors and technical theatre students.
We spoke to the student creatives at the helm of Tom Basden's Holes – director Lydia Cook and designer Chen Chen – about what audiences can expect at curtain up on Thu 25 May. They also told us how training at BOVTS has helped to shape their artistic approach.
Holes is a pithy and grizzly apocalyptic comedy crash landing this summer. Stranded on a desert island following a plane crash, three sparring colleagues and a teenager are the sole survivors of the BA043 air disaster. Waiting to be rescued and armed with microwave chicken chasseurs and duty-free booze, our mismatched castaways wrestle with the realisation that they might just be the all that's left of humanity…
What should audiences most look forward to in the play?
LC: Holes by Tom Basden is a witty British comedy that guarantees to have the audience laughing. Along with the talented actors it is a must see, I can not wait to share our summer season with the public.
CC: The set and costume designs build a situation of absurd desperation… Which might give a few hints to the audience about what's coming up!
How did your training enable you to bring this play to life?
LC: Throughout the year we have been collaborating with BOVTS students from all different courses whilst honing our individual skills. Now we come together as one big creative team for our production of Holes.
CC: The School gives us maximum creative freedom and encourages us to use environmentally sustainable materials. BOVTS makes every effort to realise our designs within a limited budget which has been an exciting challenge for everyone involved.
Book your tickets for Holes at thewardrobetheatre.com.
For more information about training at Bristol Old Vic Theatre School please see our course finder.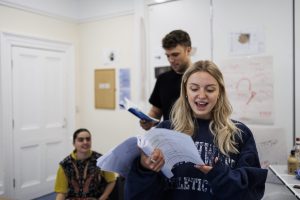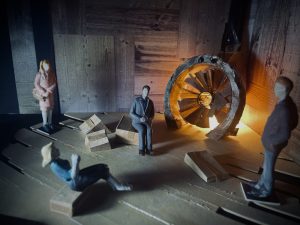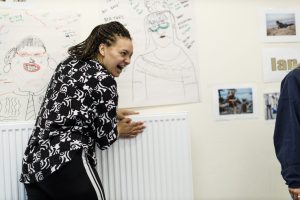 Rehearsal photography by Ed Felton; model box design by Chen Chen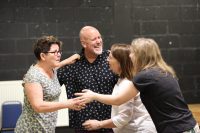 The culture at BOVTS is encouraging, respectful, welcoming and empowering; the environment and buildings are beautiful and I found Bristol to be one of the most wonderful cities in which to spend summer! Lindy Yeates, Foundation Course Student