Adam Troyer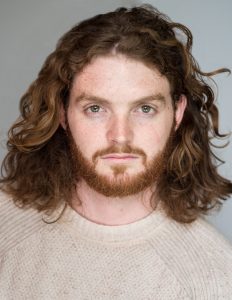 Where are you from and how did you get into acting?  
I'm from New Orleans, Louisiana in the USA. I got into acting in high school and found myself loving the process of putting on a show and the collaboration between tech and performers that really come together to create something impactful which is exactly what we are trying to execute in The Caucasian Chalk Circle.
Tell us about your characters
I play a variety of characters – the first one I'm seen as is the Corporal. I have been playing with accent and body language to create the world that is pre-set by the Fat Prince having an Italian-New York sound. My other role, Jessup, has been a world away as he is placed in a rural setting. Creating the difference between the two has been a blast. Jessup is rougher round the edges and a much darker human.
What's your favourite thing about training at BOVTS?
Training at BOVTS has been a world class experience. It has provided me with the tools to become an actor that I have always imagined being and beyond. Creating The Caucasian Chalk Circle with our team has been my favourite experience – I'm very grateful to have had an opportunity to learn what it means to build a world for a play to live and grow in.
Rachel McVay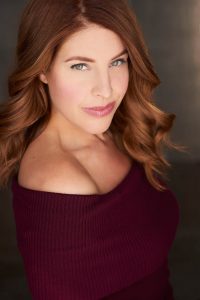 Tell us about your characters.
Well, I don't want to give too much away, but I play one of the villains, the Fat Prince. He's sadistic, arrogant, entitled, grotesque, very Donald Trump-meets-some-weightier-dictators. I also play Irakli, the Bandit, who loves spending time with cows, and wears a tutu with Converse sneakers and a viking helmet.
How did you prepare for the role?
It's been a mixture of character analysis as well as physical exploration. I started from an analytical perspective, to ensure I was telling the story Brecht intended, then I turned to various physical and psychological methods: Chekhov, Laban, Viewpoints, Animeaux, Rasaboxes. I've also spent quite a bit of time exploring the accents and vocal choices I could make in playing various characters, which has been fun. Yes, it's Brecht, and yes, it's absurd/satirical, but I still always seek to find truth in characters I inhabit.
What's your favourite things about training at the BOVTS?
The training in the MA course is superb. What's not to love about stage combat, voice, movement, dance, accents, Chekhov, Alexander, On-Camera? And those are just my favourites! The depth with which we explore paired with unyielding curiosity that is met with the most knowledgeable, passionate, expert tutors is what makes BOVTS one of the finest MA programmes around. I feel honoured to call BOVTS my grad school.
James Costello Ladanyi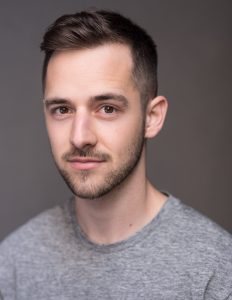 Where are you from and how did you get into acting?
I'm from Wellington, New Zealand. I have had a serious interest in acting since secondary school. My love of theatre grew and I then did a BA in Theatre (and History) at university, with the goal of coming over to the UK for a conservatoire training programme.
Tell us about your character.
My main character in the show is Simon – the love interest of the story's lead, Grusha. Figuring out Simon's role within the crazy world of the play has been a real challenge! Like many of the characters in the story, he weaves in and out of the narrative, so there is a lot of subtext to unpack. Getting a strong personal understanding of Simon's journey has probably been the most important preparation for the role.
What's your favourite thing about training at BOVTS?
My favourite thing about BOVTS is the true sense of family that comes with the training. We are a small school so it really does feel like everyone knows everyone. Walking in the front door every morning is like stepping into a home away from home!
How do you feel about performing at the Tobacco Factory Theatres?
We are so lucky to be putting our play on at the Tobacco Factory Theatres' main stage. It's a brilliant, uniquely shaped theatre space that facilitates some really dynamic staging.
Brian Pater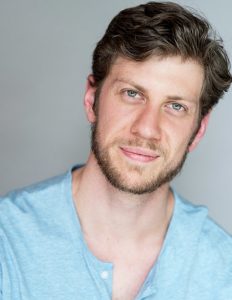 Where are you from and how did you get into acting?  
I'm from Portland Oregon originally (USA), but also grew up for part of my life on Kauai, Hawaii.
I always loved acting from a very early age. My parents would always sign me up for our local community theatre productions, I was probably 6 or 7 years old during most of these (my best work to date)! Acting became a huge and full-time part of my life as I began university. My first year was rough, but acting helped me through it, and showed me healthy, fun ways to process emotions and feelings!
Tell us about your characters
First, I play The Governor, or Georgi Abashvili, who is quite taken with himself, obsessed with his status, and relishes his ability to affect other people's lives as he sees fit…he also isn't the brightest!
Second, I play the seemingly cranky Old Peasant,who really only wants to finish his daily soup, lead a quiet life, take care of his farm, and perhaps get a divorce from his considerably more caring wife.
Third, I play The Monk, an unsavory character (understandably from Grushas' perspective) who very much likes his bible, downing several (or twelve) drinks at the pub, and being involved in a good ol' fashion wedding celebration.
Last, I play The Soldier, or, as I've fondly named him; Demetrius. The Soldier is a complicated man who's seen perhaps seen too much of battle, has been wronged by society more than once, and may have a twisted sense of humour, though he's kept an overall hopeful outlook on life mostly intact. He and Azdak become fast friends after the Soldier witnesses Azdak's wild and novel view of what justice should be. Though; things go a little bit sideways, some illegal substances may or may not have been taken, and The Soldier soon finds himself in a situation he had never imagined himself he'd be in.
 How did you prepare for the role?
I think I'm still preparing! Our director, Jesse, has been brilliant in more ways than I can write, but especially by inspiring and motivating us to play with different character choices and voicing ideas on the story at every step of the rehearsal process. It's made preparation much simpler, because I rarely felt that there was ever a wrong answer or an incorrect way of approaching a scene. If anything, it would become a different version that we could choose to take from or leave behind.  Besides that, I've prepared by continuously going back to the text many times, and analysing how best I can tell Brecht's story with the parts in the show that I have.
What's your favourite thing about training at BOVTS?
There would be too much to cover here if I were to be in depth, but I have to say the variation on classes and topics covered, the freedom with choosing the way you want to approach the work that you do, and the fact that such everyday theatre school madness and mayhem is not only accepted but encouraged and fostered by some of the most wonderfully hardworking, amazing and supportive tutors I've ever had the pleasure of knowing.
 Are you excited to be performing at the Tobacco Factory Theatres?
As us Americans would say, "Oh, heck yeah!" The Tobacco Factory is an incredible space, and I'm honoured to be acting with my fellow BOVTS MA peers, the brilliant and hardworking crew members, and under Jesse Jones' direction. This is an insane show, but there's so much love in it, and I'm excited for people to come see it.