Published on:
22nd September 2023
Our new digital campaign, In the Limelight, will profile different members of the Bristol Old Vic Theatre School community over the next academic year. Stay tuned as we shine a spotlight on students, staff, alumni, visiting professionals and supporters to share their story and what BOVTS means to them.
Follow along each week to reconnect with old friends and meet new faces as we celebrate the diverse, creative spirits that have played a part in making BOVTS so special for so many years (76 to be exact). We can't wait to pull back the curtain and put their inspirational stories In the Limelight.
For weekly campaign updates, please visit our website or follow us on Facebook and Instagram. If you would like to nominate somebody for this campaign, please contact Kate Chaffey (Marketing and Communications Officer) on [email protected].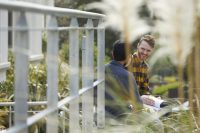 The School is in a beautiful part of Bristol, overlooking a huge park called the Downs. We sometimes take advantage of our close proximity to the Downs during the summer term, practising fight and dance routines, or voice or singing classes! Dan Hall, BA Professional Acting student