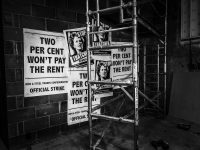 Published on:
29th July 2020
Next Friday (7th) and Saturday (8th), Bristol Old Vic Theatre School will present a live-stream production of two one-act plays by Edward Allan Baker, North of Providence and Dolores,
This production is directed by MA Directing graduate, Victor Lirio, designed by MA Design graduate, Carly Brownbridge, and features BOVTS acting graduates James Burman, Esmée Cook, Nancy Farino, and Chanel Waddock.
Originally part of the Directors' Cuts 2020 season, the production was cancelled due to the global lockdown caused by the COVID-19 pandemic. However, the recent UK government's ease on restrictions and new social distancing guidelines has allowed for these local theatre artists to produce an innovative, filmed live theatre performance.
The production will be filmed in a converted soundstage provided by Bristol-based Urban Creation using multi-camera live-stream technology of Mavis, another presenting sponsor.
Members of the production and technical teams—including both current BOVTS students and graduates of the production courses—are COVID-19 Safety at Work certified and Corona Virus Awareness on Production trained. Best practice for health and safety will be strongly enforced during production.
Director Victor Lirio commented: "This production was part of the Directors' Cuts season originally scheduled at The Wardrobe Theatre in May as our final year directing and design collaboration project. We are grateful to BOVTS, and playwright Edward Allan Baker for allowing us to explore and present his compelling plays; to Urban Creation for providing us with a creative space; and to Mavis for the innovative technology for a filmed live performance. Because of this, we are able to amplify this theatre production to virtual audiences by using the internet, film, and live television broadcasting techniques. We will be able to reach a much wider audience than we would have reached in a traditional theatre space."
The two plays focus on sibling relationships. North of Providence journeys through a painful crisis between brother and sister, uncovering old family wounds on the last day of their father's life. In the play, Dolores, a woman escapes her dangerously abusive husband and seeks help from a sister who doesn't want to get involved.
The live performances will begin welcoming audiences from 7.45pm for a behind the scenes feature, with the shows beginning at 8pm.
See the show page for links to the BOVTS YouTube channel.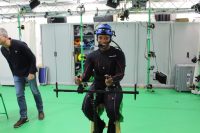 As a student, the most important aspect of a course is putting into practice what you've been learning, and we do that constantly. I cannot recommend BOVTS enough - my showreel has never looked better! April Storm Perry, MA Screen Acting Student