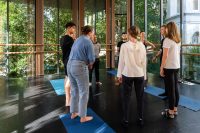 Published on:
23rd January 2023
BOVTS is thrilled to announce the launch of a series of short courses for beginners.
The performing arts industry has a plethora of roles – on stage, in front of the camera, or
behind the stage directing or designing. 
Sign up for a beginner's short course at Bristol Old Vic Theatre School if you are interested
in learning more about any of these. Whether you are just starting out, looking for ways to
enhance your skills, or network with like-minded people, a short course can open up an
array of opportunities. You can even get a taste of training for these professions, and explore
them as future career paths. 

 1.  Acting for Stage – Beginner
3 – 7 April | 5 days | £567
This course offers an introduction to the craft of stage acting. You will spend five
intensive days examining scripts, analysing character and practising techniques of
voice, movement and acting. If you are an aspiring actor looking to build skills and
confidence to perform on stage, then this course is for you.

2.  Acting for Camera – Beginner
3 – 7 April | 5 days | £670
This introductory acting course explores the skills for performing in front of a camera.
The course integrates elements from the teaching given to BOVTS BA and MA
students to give you a taste of training at a drama school. Over 5 days, you will learn
about film production sets and how the actor works in that environment to present
believable work.

3.  Intro to Performance Design
24 – 29 July | 6 days | £690
Get a glimpse into technical training at a world-leading theatre school. BOVTS'
Design Department, together with a number of visiting tutors, will take you through
introductory sessions in costume, set and prop design. If you are looking to pursue
further training in performance design, or kick-start a career in the field, this course
can help you acquire relevant practical skills.
4.  Directing Theatre
11 – 15 Sept | 5 days | £567
This 5-day course covers the fundamentals of being a theatre director. In the
sessions, you will look at interpreting scripts and directing actors to bring your
creative vision to life. You will also learn about working on productions with other
departments, thus gaining a full picture of the collaborative process of devising
theatre.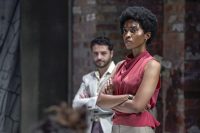 In just one year the MFA programme has given me the confidence in my artistry and the tools to work professionally that I lacked prior to my training. N'Dea Miles, MFA Professional Acting Student