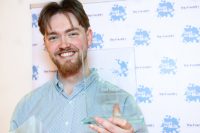 Published on:
13th December 2022
Bristol Old Vic Theatre School is thrilled to announce that second year BA Professional Acting student Sol Taibi was awarded the Luke Westlake Scholarship last night in an awards ceremony.
The Scholarship Award Evening took place at the Lyric Hammersmith and was hosted by Just Add Milk (JAM), an award-winning charity that develops the next generation of actors through affordable casting and agent workshops, acting courses and scholarships.
Now in its fourth year, JAM's Luke Westlake Scholarship is an annual prize awarded to working-class actors in their second year of drama school or university in the UK. The recipient of the scholarship receives £6,000 worth of financial support and development opportunities as they complete their training, gifted by esteemed arts organisations and businesses such as Spotlight, The Stage, Nick Hern Books and Shakespeare's Globe.
Alongside Sol, the shortlist for 2022 – which was announced at the end of October – featured two more students from the BA Professional Acting cohort: Nadia Kamalli and Arabella Smith-James. Bristol Old Vic Theatre School extends its congratulations to all of the shortlisted actors.
Liam McLaughlin (Executive Director of JAM) commented: "The selection for our 4th annual scholarship was by far the hardest yet. We received a huge number of high-quality applicants – it was outstanding. However, the panel's clear favourite was Sol Taibi and we're delighted to announce Sol as The Luke Westlake Scholarship 2022 winner. Though Sol's acting journey has just begun, we know that he'll go to the top and reach his excellent potential and we're so excited to support him on that journey."
Sol commented: "First of all – I would like to thank TeamJAM, Lee and Bridgette Westlake for giving me this award. It's an act of true kindness and I can't thank you enough! My road into the acting world certainly hasn't been easy. It took me a long time to get into drama school. But if people like JAM can help people me from my sort of background – it just shows you there really is some wonderful people in the world."
Previous winners of the scholarship have had huge success, including the 2020 recipient Ayomide Adegun who secured a lead role in the John Wick spin-off, The Continental, and will star in The Ballad of Songbirds and Snakes, a Hunger Games prequel.
To find out more about the Luke Westlake Scholarship, please visit justaddmilkjam.com.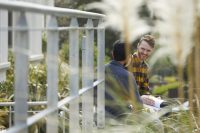 The School is in a beautiful part of Bristol, overlooking a huge park called the Downs. We sometimes take advantage of our close proximity to the Downs during the summer term, practising fight and dance routines, or voice or singing classes! Dan Hall, BA Professional Acting student