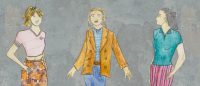 Published on:
5th June 2023
Bristol Old Vic Theatre School's Summer Festival runs at The Wardrobe Theatre from 25 May to 17 Jun. The season is comprised of 8 sizzling contemporary plays – ranging from apocalyptic comedies to psychological thrillers – presented by the School's graduating directors, designers, actors and technical theatre students.
We spoke to the student creatives at the helm of Luke Barnes' No One Will Tell Me How to Start a Revolution – director Roisin McCay-Hines and designer Jasmine Thompson – about what audiences can expect at curtain up on Thu 15 June. They also told us how training at BOVTS has helped to shape their artistic approach.
Suzie, Edwina and Lucy's lives are upended when their family move from a council estate to an affluent, suburban town. Starting out afresh at a new school, the teenagers battle to find a place for themselves. But when the odds stack up against them, can they truly break out of the boxes that society has put them in? Luke Barnes dissects ideas of class, social mobility and identity in this poignant and funny portrait of self discovery.
What should audiences most look forward to in the play?
RMH: The three sisters will indulge you in their most vulnerable secrets, and then hit you with an eruption of riotous teen-angst. Get ready for a healthy dose of emotional whiplash as they guide you through some of the most tumultuous months of their lives!
JT: The audience should look forward to how the characters' family dynamics are represented through the set design, and also the all-out 2000's costumes and props.
How did your training enable you to bring this play to life?
RMH: The detailed approaches to text that we have explored this year have proved invaluable for developing concepts and ideas that reflect our identities as directors. It has allowed me to create a piece of work in a style that is authentic to me, whilst also utlising the skills and experiences of my collaborators, taking the play beyond the limitations of my own expectations.
JT: Prior to the course I was a lot less experienced at working digitally, so I've really developed my skills in programmes like photoshop and autoCAD. This has been invaluable in realising my designs and will continue to aid me out in the industry.
Book your tickets for No One Will Tell Me How to Start a Revolution at thewardrobetheatre.com.
For more information about training at Bristol Old Vic Theatre School please see our course finder.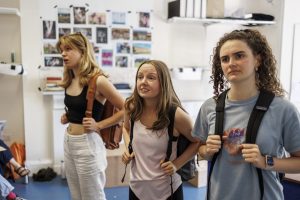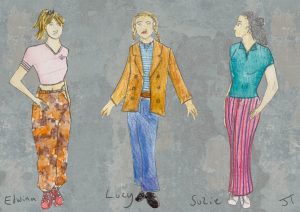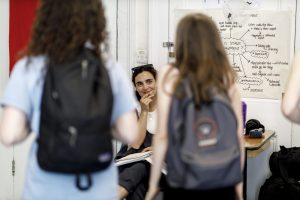 Rehearsal photography by Ed Felton; designs by Jasmine Thompson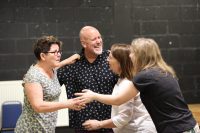 The culture at BOVTS is encouraging, respectful, welcoming and empowering; the environment and buildings are beautiful and I found Bristol to be one of the most wonderful cities in which to spend summer! Lindy Yeates, Foundation Course Student