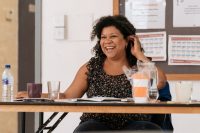 Published on:
30th May 2022
Bristol Old Vic Theatre School is delighted to congratulate alum Nancy Medina who has been named as the new Artistic Director at Bristol Old Vic.
An award-winning theatre director, Nancy trained at BOVTS on the MA Drama Directing course between 2013 and 2014, directing at Tobacco Factory Theatres and assistant directing on the summer West Country Tour. She has worked closely with the Theatre School since, as a visiting director for both in-house text projects and main house productions, including The Laramie Project at Bristol Old Vic.
Nancy won the Emerging Director's Prize at Tobacco Factory Theatres in 2014; the Young Vic's 2017 Genesis Future Director Award; and the National Theatre's Peter Hall Bursary in 2020. Recently acclaimed productions include Moreno (Theatre503), Trouble in Mind (National Theatre), Two Trains Running (Royal & Derngate/ETT) and Strange Fruit (Bush Theatre).
Speaking of her appointment, Nancy said: "I feel a great sense of awe and excitement to be embarking on a journey that will contribute to the great legacy of leading England's oldest working theatre. It will be a great honour to listen, reflect, and engage with the people of Bristol and together imagine what the future of theatre and the arts can be in this shining city of the South West."
Bernard Donoghue, Chair at Bristol Old Vic, added, "Nancy is an inspiring visionary, a highly accomplished and award-winning director, and a passionate advocate for Bristol. Her commitment to our ambitions for Bristol Old Vic to be a producing powerhouse, an important civic space for Bristol and the region, and being an accomplice in the work on social justice, diversity, inclusion and equality is s clear in everything she does."
Nancy will take up the role full-time in spring 2023. Please see Bristol Old Vic's website for further information.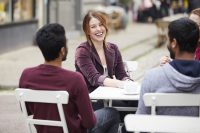 The training provided by the MFA programme is superb. The depth with which we explore, paired with unyielding curiosity that is met with the most knowledgeable, passionate, expert tutors is what makes BOVTS programme one of the finest around. I feel honoured to call BOVTS my grad school. Rachel McVay, MA Professional Acting Student